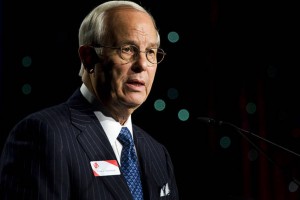 At the recent Global Gaming Expo, American Gaming Association President Frank Fahrenkopf said the legalisation of online poker in the United States still remains a bone of contention for the online casino industry.
US Online Poker Legalisation Unlikely for 2012
Fahrenkopf said online poker legalisation is one of the most talked about topics among the gaming community. The vast majority of gaming companies and those who manufacture casino equipment eagerly await the legalisation of online poker in the American market.
Since the 2010 lame duck session the online poker bill sponsored by senators Harry Reid and John Kyle have been placed in the back burner by Congress. There is still a lot of discussion going on behind closed doors in Washington D.C whether the bill should be implemented or not. Unfortunately the US Congress is still in two minds about its regulation especially with the forthcoming US elections. Fahrenkopf said that many members of Congress in favor of online poker are retiring now further slowing down its regulation.
He also pointed out, "We don't know what the landscape will be like come January. It could be much more difficult if we don't get something done during the lame duck session of Congress."
Fahrenkopf said the the United States government is losing tens of millions of dollars in potential revenue every year by not regulating it. He continued in the same vein and said that 85 countries have already legalised it. H2 Gambling Capital's research indicates that 33 million players worldwide wagered approximately $35 billion over the Internet this year so far.
The introduction of a bill during the traditional session of Congress between the November elections and the end-of-the year adjournment is highly unlikely effectively stopping the legalisation of online poker this year, Fahrenkopf said.
He concluded, "The legislation may be much different than the summary we saw recently."
0 Flares
Tweet
Email to a friend
0 Flares
×