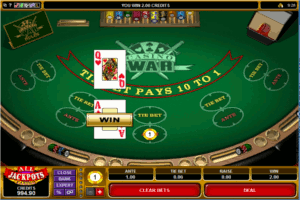 You don't need to be a rocket scientist to play this casino game. In fact, we are quite surprised that such as dull game has become so popular at internet casinos. Players are craving more and more undemanding entertainment and excitement nowadays. Casino War most certainly lives up to this expectation. The aim of this game is to see whether you or the dealer gets the highest card. Should there be a tie, you'll need to battle it out a little further.
The Table
Played on a standard Blackjack-style table, there are usually six to eight seats and betting positions. There is no advantage to sitting in one place over another. Change your cash for chips and prepare to play.
How the Game Works
Casino War is usually played out of a six-deck shoe; sometimes it is dealt from a continuous shuffle/dealing machine. The dealer deals the player one card and he deals himself one card. If the player's card is higher the player wins, should the dealer's card be higher the dealer wins. Winning bets are paid at even money (1 to 1).
Now, if the cards dealt are the same, this is a tie and the player must make a decision. The player can surrender half his/her bet and lose, or can "go to war". This isn't nearly as exciting as it sounds: the player must place a bet exactly equal to his/her first bet. The dealer "burns" (discards) three cards, and deals a new card to both the player and himself. This time, if the player wins he/she gets paid even money (1 to 1); if the dealer wins, he wins both bets.
In case there is a second tie, some casinos make you go to war again; others call a second tie a win to the player; others pay you on both your original bets (often advertised seductively as 2 to 1 on the second bet). You may bet on a tie at the start of the second hand, paying 10 to 1 should it occur, but this is an appealing bet, offering the house at least an 18 percent edge-and even more if fewer decks of cards are used. Never make this bet.
Bankroll
This game holds little entertainment value; if you are going to play take a bankroll of 20 times your base bet. If you make a 50 percent profit, lock at least half of it away. Ideally leave the table a winner and count yourself fortunate that you went to war against the casino won.
Playing Strategy
The only strategy with this game, in the event of a tie is that you must "go to war". To surrender your hand for half your bet offers the house around a 3.5 percent edge; to "go to war" reduces the edge to about 2.5 percent.
In addition, you might glance at how many decks are being used. With the exception of the Tie Bet-which you should never make, the fewer decks in play means the smaller the edge to the casino. So, if you really must play this game, see if you can find a casino be it online or land-based. In a game where the player receives a bonus for a tie during the "war" element this would in theory at least reduce the house edge to just over 2 percent.
Betting Strategy
Since the house holds an edge of over 2 percent against you, the best betting strategy is to make the minimum bets, which will minimize your losses in the long run. In order to maximize your profits you might try a modest increase in bets after each win. If your winning streak ends, return to the minimum amount once again, ideally leave the table with your profit.
Most casinos offer this game at relatively low stakes, although in a glamorous hotel in Las Vegas it could be played for high stakes. We've heard a story once that there was a middle-aged couple dressed as pirates who were betting a $1,000 each on every round and over the course of several hours built up close to $50,000 in high-value chips each. One can only hope that they took their cash and ran. Maybe the best strategy for this game is to dress up as a pirate…we hadn't thought of this until now.
0 Flares
Tweet
Email to a friend
0 Flares
×