Legal Georgia Online Casinos & Gambling Laws
State of Georgia Online Gambling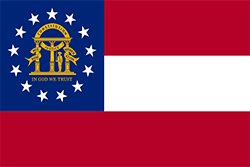 Ever heard the song Georgia on my mind? Coincidentally it's also the song sung by Hoagy Carmichael and Stuart Gorrel in the 1930's.
Famous poker player Billy Baxter and Jimmy Carter the 39th president of the United States call Georgia home. The state has a total population of 9 million residents and counting, it's also known as the ''Peach State'' and approximately 51,000 square miles in size.
If you're a serious gambler then I'm afraid this is not the ideal state to be in since land-based casinos are illegal. But if you have a pair of decent sea legs you can always visit a luxury cruise ship which has a casino on board. Here you can play all your favorite games from slots to blackjack even roulette. Also known as the Bible belt; South Carolina banned video poker in 2002 yet many machines still ended up in Georgia. Suffice it to say state law had a loophole which many establishments exploited. This compelled the state to come up with a new law passed in 2002 which banned video poker machines altogether.
From a gambling perspective Georgia does not have much to offer. The state offers lottery, charity gambling, and cruise ship gambling which is seen as a replacement for land-based casinos. Due to the restrictions Georgia placed on gambling many of its residents are travelling to neighboring states to gamble in casinos or online. I'm not an attorney of law neither do specialise in the online gambling laws of this state.
If you intend to gamble online make sure you understand its laws first. If you are not sure it's best to consult a lawyer. When it comes to prohibiting gambling online, Mr. Lotto summed it up nicely: ''You'd think that the American Government has learned from Prohibition, but the more government tries to stop Internet betting, the hotter it gets''.
Is Online Gambling Legal in Georgia?
Although Georgia doesn't allow any form of land-based gambling it doesn't mean online gambling is illegal in this state. The closest you're going to get to a land-based casino is if you board the Emerald Princess II Casino. You can play a host of games ranging from slots, to blackjack, craps, roulette or poker. Just keep in mind that this vessel travels along a specific route therefore not stationary. This is one of the main reasons why so many gamblers from Georgia prefer to gamble online. The legal USA online casinos advertised on our site offer live casinos, a myriad of slots, progressive jackpots, VIP program, cash back on losses an sterling customer service. I must point out they are not regulated by the state of Georgia since they are based overseas.
Is Gambling Online Illegal in Georgia?
The Federal Government ruled that the wire act only applies to sports betting. The Wire Act was imposed by Robert Kennedy's war on organized crime, a program with specific goals if you will. Online gambling is not against the law making it legal. You're allowed to play slots, table games, live casinos, poker, sports betting and progressive jackpots online. I can't stress enough that you must be 21 or older to gamble online. If you're 18 it's illegal and against the law. The online casinos we've partnered are not regulated by the state but licensed in Curacao, Canada (Kahnawake), Anjouan and Costa Rica.
Future of Online Gambling in Georgia
The crux of the matter is if you're a resident of Georgia and you want to place a couple of bets in a casino you'll have to do so on a ship, travel to a neigboring state or play online. The future of gambling in Georgia is looking rosier by the day since many states are seeing the potential of regulated online gambling. It's not a case if the government of Georgia is going to legalize it but when. Statistics indicate that more Americans visited a casino than visited major or minor league baseball parks. But if America is truly a nation of gamblers, one must understand the reasons why Americans once demurred on legalizing gaming.
Note: The casino laws of Georgia are subject to change. The above article is for informational purposes only. If you are not familiar with the gambling laws of Georgia please consult and attorney of law.US Online Casinos Legislation by State