Interview with Tony Hays of InterCasino
Tony Hays, Casino Manager of InterCasino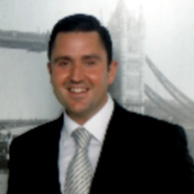 Tony Hays is the casino manager at InterCasino and based in Malta. Tony was kind enough to grant us an interview. Thanks Tony
What prompted you to join the online casino industry?
I was offered an incredibly exciting opportunity to join an established market leader in a relatively new, fast paced and constantly evolving industry.
What do you like about InterCasino?
Everything it represents – the symbolic status and prestige of the brand, the variety of games provided (slots in particular), the loyalty and protection it offers its members, the frequency and variety of monthly bonus offers available, fast pay-outs, a 24/7 Customer Support function, to name but a few!
The most popular promotion/s players tend to go for?
I would say the My Bonus For Life deposit promotion is by far our most popular. A variety of different deposit bonus types are offered at various intervals throughout the month providing everyone with something that suits them!
The biggest mistake players tend to make when they accept the deposit bonus, or any other bonus offer?
Players sometimes enter the bonus code after they have deposited. Because it's the actual deposit that activates the code, the player doesn't get the bonus funds they were expecting, resulting in a negative experience and an unhappy customer, neither of which are ideal.
There's also 'Fine Print' like wagering requirements (the number of times a bonus and/or deposit needs to be turned over) and the contribution of certain games toward satisfying wagering requirements. Without checking, players will play a specific game they may think contributes 100% towards satisfying the wagering requirement when in fact it only contributes 10%. Again, this leads to a negative experience and the breakdown of the relationship between the player and the brand.
At InterCasino, we ensure instructions on how to activate a bonus, information on the various different game contribution percentages and at least a link to relevant Terms and Conditions are included in all promotional mailers. We try and ensure the Fine Print is as explicit as possible to avoid doubt and confusion.
What advice would you give to new and current players?
Deposit and actually give us a chance to show you what we can offer you. Playing for fun is great if you want to learn or familiarise yourself with a game but the ultimate experience is really playing with (and winning) real money! Our site is incredibly user-friendly, easy to navigate and the client even comes with a tutorial on how to find your way around the lobby and the games! InterCasino customer support team is available 24/7 and willing to answer any question or query in multiple languages if you are unable to answer yourself from the website.
We really value customer insight and encourage players (and business partners) to give as much (constructive) feedback as possible. In We strive to offer the ultimate gaming experience on the internet and the only way we can get close to our goal is if the people interacting with us let us know what they think and offer suggestions on how we can improve!
Where do most of your players currently come from and is InterCasino popular with punters from the UK?
We are a truly global brand with players from all corners of the globe including Canada, Scandinavia, Eastern Europe and Japan. We recently acquired a license to operate in Denmark so expect our Danish business to grow exponentially. The UK continues to contribute significantly to our overall player base.
How would you describe the wagering requirements for the welcome bonus of InterCasino, could you please give us an example?
It's really simple - players have to wager 15 times their deposit and bonus credit. For example, a player deposits 100 units and receives a 100 unit match deposit bonus, leaving a balance of 200 units. In order to clear the bonus and withdraw their initial deposit, bonus amount and any associated winnings, the player will have to wager 3000 units [(100 deposit x15) + (100 bonus x15) = 3000].
Different games contribute different percentages towards the wagering requirements. This information is clearly stated on the website and in the bonus T's & C's.
Which casino games are a hit with players and why?
European Roulette as we offer such a vast range of betting options and Millionaires Club 3 with its massive jackpot are arguably our most popular games. Our Marvel themed slots are also incredibly popular as players are familiar with the characters and often have a personal favourite game they prefer to play.
How do you see the face of online gambling in years to come and if it's legalized in the US again would InterCasino enter the US market?
Legalized markets generally are something that everyone needs to accept. Personally, I don't see it as a bad thing. Unfortunately, I struggle to see how the smaller operators will fair and am resigned to the prospect that at some point in the not too distant future, there will be a handful of major brands/operators that will dominate the regulated market.
Regarding the US, I'd like to think that we would re-enter the market should we be allowed to do so. We were one of the top 3 brands operating in that market prior to UIEGA and players loved us - we still receive emails today from ex-players asking about updates on the legal situation and wanting to play.
In the event of a player dispute what procedure/s must the player follow?
Any dispute should be forwarded directly to the Customer Support Team. If the frontline advisors are unable to resolve the issue, it is escalated to a senior member of the Customer Support Team. Should a player dispute the initial outcome, the query may be reviewed a second time. Should a player find any additional response unsatisfactory, they would be directed to the LGA.