Interview with Adanna Player of Omni Casino
Adanna Player, Development Manager of Omni Casino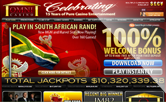 Adanna gives us a glimpse at to what goes on behind the scenes at Omni Casino. Thanks Adanna
In which jurisdiction is Omni Casino licensed and is it certified by a credible institution?
Omni Casino is a fully licensed casino which is currently operating under the jurisdiction of the Government of Curacao. Due to the fact that Curaçao operates its own government, it allows for very favorable conditions to Internet gaming companies. In total 75 of some of the highest rated internet gaming companies are licensed here.
How long has Omni Casino been online now and where does most of its players currently come from?
Having been established in November of 1997, Omni prides itself on being considered amongst the longest running online casinos in operation. In fact, we have outlasted a staggering 95% of other online casinos to date.
Which software provider powers Omni Casino? How many casino games does it currently offer and how would you describe the game graphics and animations of this software?
Omni has been functioning with and under software developed by Playtech, which is bar none the world's largest online software supplier which is publicly traded. Currently there are 240 games offered by Playtech with quite an array from which to choose, ranging from slots, to different varieties of Roulette, Video Poker, Scratch Cards and more.
It is a general consensus not only with the casino operators who choose to utilize Playtech's software but the customers who play their games. Customers state that the software's game graphics is nothing short of stunning. The combination of aesthetically pleasing animations and intricately paired up audio makes for quite a unique and thrilling gaming atmosphere and experience.
Which promotions are popular with players? Do you update regular players with regard to any new promotional offers?
To be very honest we have quite an array of staple weekly bonus promotions.  All of which are almost, if not equally popular with each and every one of our players. It would be very difficult to single out any specific one or few. Players are updated weekly (every Friday) via our Omni Times Newsletter of the upcoming week's promotions and any other titbits.
Presently our most popular promotion is the Hot Seat promotion exclusive to Omni Casino ONLY. At the end of each month a player's gaming is reviewed for the entire month and based on our pay table winnings are calculated and issued. Plus, if you play Video Poker you must check out our Double Royals Promotion!
Omni Casino offers first time player a 100% match bonus up to $100, what is the minimum deposit amount to qualify for this bonus? Can you please give us an example of the wagering requirements attached to this bonus and which games can it be used to wager
The First Deposit Bonus, which is the official name of the bonus to which you are referring to offers 100% match up to 100 in whatever currency the player is registered to play with, i.e. EUR, JPY, USD and all other currencies offered at Omni Casino. In order to qualify for withdrawal of winnings gained through this promotional bonus the wagering requirements are as follow:
The bonus is ONLY triggered with a deposit of 20 or more of any available currency. The bonus must not be combined with any other bonuses unless it is otherwise stated or waived by the casino. A total of 20 times the deposit amount PLUS the bonus amount must be wagered before a withdrawal is considered "legal". A maximum bet amount of 6 of applicable currency must be maintained until the wagering requirement is met on allowed games.
The bonus is free to be used on all games, however, it is not allowed on any form of table, card, video poker and/or arcade game. Additionally, all Progressive slot machine and/or 'activating' the Dollar Side Ball Progressive option at any time, voids winnings. The only exception to this rule is for Marvel, MGM, and Universal themed games (on these, game play IS allowed while utilizing the bonus, without fear of voiding winnings).
Does Omni Casino reward its loyal players? How does its loyalty point system work?
We most certainly do reward our loyal players. Each and every individual who takes the time to open an Omni account is considered a VIP. However, we do have a tiered VIP system where you enter at an introductory level with basic perks such as the weekly bonuses and personalized attention from the well trained, experienced and friendly support staff. Omni offers what we call "CLUB O" status. Club O comp cash points are earned during gameplay at any of the games at Omni Casino. For every $10 wagered (not won or lost), one (1) Club O cash comp point is earned that can be converted into real cash. The higher the Club O status, the more the cash rewards are earned.
From time to time we also reward our loyal members over and above any Las Vegas resort with real comps./ vouchers. These include live entertainment such as concerts, sporting events, dinner nights out, ladies day at the spa and any other personalized arrangement we decide to make for our players. Truth be told it may not be listed on our site but is learned through interaction with each individual over time and learning their personal interests, likes and dislikes.
Safeguarding a player's personal information is tantamount which security features does Omni Casino use to protect a player's personal and financial information?
I couldn't agree more. Safety is of utmost importance here at Omni Casino and is our number one concern. Keeping pristine records of a players' details in an environment that is secure takes precedence only to our personalized customer service.
To ensure that that this is done, we invest in state of the art firewall technology which is encrypted to make it virtually impossible for leakage of player information. We are strictly against divulging player information to third party companies or persons for any reason other than if they are using a payment such as Neteller or an other alternative payment method. Therefore, initial security procedures are in place in order to ensure that the person whose information is being used to signup and play, is in fact the person who is playing and with whom we are communicating.
We also request documentation such as photo IDs, proof of address, and copies of any cards used (if this is the method of payment utilized). It is also advised that each player keep his/her password and username in a safe place where no third party individual is able to obtain their login details and possibly play on the account under possible identity theft.
Which deposit and withdrawal options are popular with players? What is the minimum and maximum amounts that can be withdrawn and how long does it normally before the withdrawal is cleared?
Due to the countries served, there are many deposit and withdrawal options available to our players and each day we are looking to increase these options for an even more user friendly experience when funding one's account or receiving winnings back.
In general the top three favourite methods of funding for players are VISA, Neteller and Moneybookers. Apart from these when it comes to withdrawals credit back to credit cards tops the list. This too depends on the method the player would have used to fund the account initially, some payment methods do not allow for funds back in exceeding the amount used to make the deposit in the first place.
Once all documentation have been sent in and approved (or is already on file) withdrawals can be processed as quickly as within 24 hours, or up to a 2 – 3 business days depending on the method being used for payment and the amount being withdrawn.
Please list your top 5 games. The highest jackpot payout the last year and on which games was it?
At the moment, our top 5 most played games include our Marvel Slots, Kong The Eighth Wonder of the World, Lotto Madness, A Night Out and Great Blue all of which are Slots. The highest payout the last year was on the Slot Machine Queen of Pyramids it was $136,000.
What is the average payout percentage for all the games at Omni Casino?
Due to games being random, payout percentages will vary from month to month, we do update our payout percentages every two months here: http://www.omnicasino.com/about/payout.asp