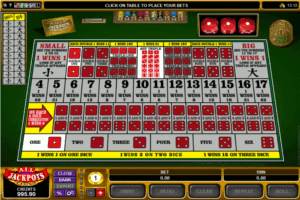 Sic Bo is a dice game that originated in China. It is also called Tai Sai and Dai Siu. It is hard to categorize this game. Some people think that it is a precursor to Craps. It has similarities to Grand Hazard an old English gambling game called Hazard, the original game is played with two dice. In some ways you'll note that the betting layout resembles Roulette.
Chinese immigrants introduced Sic Bo to the United States; you can bet your bottom dollar that casinos will have this game on offer if there is a large Chinese community in the area. In Las Vegas casinos offer Sic Bo in their Asian game rooms, and it is a casino game we advise you to try out not because it offers you odds as good as Craps, but it is something a little different. If you join a busy table you'll notice the fast and furious ways many Asian gamblers play this game.
For those who love gambling a visit to Macau just across the bay from Hong Kong is a must. Once again not because the casinos offer you good games but it is a unique cultural experience. On the contrary the house edge in most Macau casinos is the highest in the world. When you enter a casino in Macau it is truly a different world altogether, and it is wonderful to simply observe and listen.
The main body of this article will focus on the standard odds for each bet, as found in Atlantic City, most Vegas Strip hotels and at many internet casinos. We'll also have a look at some variations.
The Table
The table Sic Bo is played on is unlike any other table in the casino and may look rather intimidating. It is covered in many unusual betting patterns. A little larger than the standard table and often glass or Perspex-topped, in Macau some casino boasts vast Sic Bo layouts where many players can participate in one game simultaneously. Bets are placed on the layout in a similar way to Craps and Roulette.
When winning options are decided all winning betting positions light up, ensuring that both players and dealers can immediately see who the winner is. Some tables even have bells and sound effects adding an additional allure to a different style of gambling game.
In one corner by the dealer's hand is a glass dome covering three dice. These dice are shaken and the shaker is turned over to reveal the values through the dome. The dealer programmes the result into the table and the winning bets are illuminated.
Players place their bets on the same layout, at times using standard chips or special table Sic Bo value chips as to avoid confusion when it comes to payouts. You can sit or stand at the table this depends how many people one casino will allow. At internet casinos, the Sic Bo layout is exactly the same as at land-based casinos.
Be alert to the payouts being offered. We're also going to discuss what the industry standard for payouts should be. Don't play Sic Bo if the payouts offered are poorer than this. Also note that payouts differ from table to table. Paying out at 10 to 1 means that you will receive your original stake back and ten times the stake in prize, therefore a prize of "10 for 1" pays out ten times your stake. So, 9 to 1 is the same as 10 for 1, and you must be on the lookout for this.
0 Flares
Tweet
Email to a friend
0 Flares
×