King Kong Review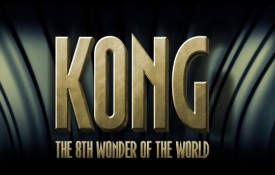 Theme

Betting Options

Ease of Play

Game Features

Software

Jackpot
King Kong video slots (non-progressive) has 5 reels and 25 paylines. It offers an array of wilds, scatters and a jackpot win of $37,500.
In 1933 King Kong the movie about a giant gorilla made its debut. Since then it has captivated the imagination of movie makers and the general public. The pioneering 1933 movie was remade in 1976 and 2005. It wasn't long before a number of sequels followed. In the first movie the character's name is Kong. This name was given to him by "Skull Island's" natives situated in the Pacific Ocean. Kong shared the island with plesiosaurs, pterosaurs, dinosaurs and various other pre-historic creatures.
Carl Denham the leader of an American film crew succeeds in capturing Kong and takes him back to New York City to be exhibited as the "Eighth Wonder of the World". Kong manages to escape and climbs the Empire State Building where aircraft shoot and kill him.
King Kong one of the eight wonders of the world has been immortalized in other works of art apart from films to cartoon series, books, comics, various commodities and of late in Playtech's new video slot. Kong's role in the various narratives ranges from rampaging monster to heart-rending anti-hero. This new slot game brings to life the characters that appeared in the 2005 "King Kong" Hollywood blockbuster. They are Jack Black (Carl Denham), Adrien Brody (Jack Driscoll), Naomi Watts (Ann Darrow). 
King Kong is an extraordinary 5-reel, 25-payline video slots. Its creativity steals the show especially in the cinematic bonus rounds. It features the usual "bells and whistles"flushed with wilds, scatters and two playing modes titled Jungle and Big City. Unfortunately free spins and multipliers are not offered. However, the loads of features in the two modes more than makes up for this. Card symbols from Ace to Ten grace the reels as well.
Wilds and Scatters
The Kong Logo is the scatter symbol and King Kong the wild symbol.
Coin Denomination
The coin denomination ranges from $0.01 to $5 and players can play up to 20 lines, offering a great assortment of betting amounts tailor made for any budget.
Playing Modes
We briefly touched upon the two playing modes. Each mode offers its own unique set of features. The game kicks-off in "Jungle Mode". This mode changes every time a player completes a scatter-triggered special feature.
Special Features
The Jungle Mode is is triggered by three or more wilds. The second mode is triggered when three or more scatter Kong symbols appear any place on the reels. In the first Wild Jungle Re-spins you will receive three re-spins. Each wild remains static until the features ends retaining its original role as a substitute.
The second is the Skull Island Bonus Feature. This section of the game plays off in the jungle. Here you must pick 1 to 13 locations on the Skull Island map. Every location hides one animal including King Kong. The idea here is to choose three identical animals or King Kong whichever offers the best payouts.
Each animal has a different Bonus Prize multiplier value:
King Kong has a 30x s multiplier value.
T-Rex a 20x s multiplier value.
Raptor a 15x s multiplier value.
Brontosauruses has a 10x s multiplier value.
Similar to the same pattern The Big City Mode offers two additional features.  When three or more wilds appear anywhere on the reels the Wild Kong Re-spins feature is triggered awarding three re-spins. The wild symbol is stacked in every re-spin. For instance, in the first re-spin reels 1 and 5 are wild and so on. The second feature in this mode is the City Tower Bonus. It is triggered by three or more scatters here King Kong must destroy three aircraft. A cash prize is given for every aircraft destroyed or knocked down.
King Kong video slots remains true to the original 2005 movie blockbuster. If you enjoyed the movie changes are very good that you will like this slots. The cinematic clips are a visual treat backed by pin-dropping audio which paves the way for an enjoyable gaming experience!
Synopsis
If you enjoy play slot games with an adventure them then King Kong will appeal to you. What I like about this game is its superb graphics, duel game modes and cinematic video clips. The fact that it does not offer a progressive jackpot and free spins down plays the quality of this game to a certain extend. 
[addtoany]
More Playtech Game Reviews