The Ins and Outs of Gambling
The Ins and Outs of Gambling Online
Table of Contents
Introduction
1. Online Casinos
1.1 Licensing and Jurisdictions
1.2 Software providers and the games offered
1.3 Certification and audit reports
1.4 Morality of the online casino industry
2. Casino Affiliates
2.1 What are Affiliates?
2.2 Affiliate Managers
2.3 Is it ethical for affiliate managers to own portal casinos?
3. Watchdogs
3.1 GPWA, AGD, CAP
4. Rogue Online Casinos
5. Responsible Gambling
6. Gambling Awards
7. Online Gambling Legislation USA
Introduction
Online gambling was first legalized in Antigua and Barbuda in 1994. This little Caribbean island state passed the Free Trade & Processing act which allowed online casinos to apply for licenses.
In this article I'm going to explore the basic components of online gambling. Incidentally it is also a multi-billion dollar industry, in 2008 it generated more than $21 billion globally. Many governments have legalized it whilst some are still finding ways to properly regulate and tax it. For additional reading you can also have a look at Askgamblers.com. The site covers the latest news, casino and game reviews and solves player complaints.
As a pastime millions of people are fixated with gambling. Casinos, betting parlors, card and high-staked bingo rooms virtually feature in every state and nation. If one takes this new found freedom into account many traditional gamblers have questioned the value of Internet betting. Land-based casinos offer the same games albeit in a safe and regulated environment-something online gaming companies can't claim, or can they? Many players feel that online gambling lacks panache. It does not offer the same level of excitement to that of a land-based casino.
"Why gamble online?" People from all walks of life enjoy gambling. It's a universal vice that has spread like wildfire. The past twenty years in the United States has seen an unprecedented increase in both the popularity and social acceptance of it as a form of entertainment. Previously considered the "Devils Work"-banned in all but two states it generated a staggering $60 billion per year. This is more than the entire global gambling industry combined.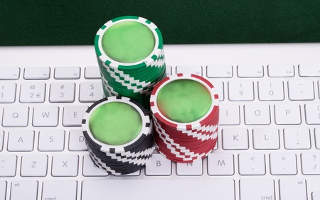 Online gambling has its limitations but it also has a lot to offer, not only from an entertainment perspective but from a strategic one too. Most games that can be played online in particular slots offer higher payouts, a wider range of betting limits and the usual life-altering windfalls associated with the game.
Players can also check which games offer the best payouts, switch from slots to poker to playing table games without batting an eyelid. Wagering online allows players to experiment with new games and strategies without feeling the rush. Today, it is regulated by most European countries, even the United States is busy legalizing it. New Jersey residents can now play their favorite games from the comfort of their own homes. Whether online gambling will yield the expected revenue in the US state remains to be seen.
Despite its innocuous presence, online gambling comes with a price. It can be highly addictive and there are very few casinos that does not have a few player scalps mounted on their virtual walls. It poses a risk, especially when it entails money and personal information.
1. Online Casinos
The Internet has revolutionized the way we live, work and play. It was developed by the US government in 1953 as a method to transmit research data between universities. It really took off in the early 1990s because of our insatiable need to communicate and our ability to look for new forms of entertainment.
There are literally thousands of casinos scattered across the internet. Some good, some bad and some downright diabolical. An online casino is a virtual casino where players can deposit funds online and place bets on their favorite games. Players will be treated to a quasi-realistic tour of the house, with 3D graphics, games and other aspects of the site. Funds can be transferred to a casino via credit/debit cards or e-wallets like Moneybookers or Neteller.
Customer support
Although many patrons forego to even bother to look into it, customer support plays an integral part in any casino operation. If there's a problem, these guys are your only line of support. Before you sign up, give the site a test run, send them an email to see how long it takes before they respond to it. Be wary of sites that offer limited support and avoid the ones that don't have any contact information.
Security
Most casinos have a section about their security. All the safety mechanisms they have in place that safeguards your personal information. This includes sophisticated data encryption methods, controlled access, verification and account identifiers.
Comp Points
Reputable sites value their patrons and reward regular play. For every X amount of cash wagered, the player will receive a certain amount of comps. Over time these points accumulate, when enough points have been earned they can be exchanged for cash. The point system varies, players normally receive 1 point for every $10 wagered. 
1.1 Licensing and Jurisdictions
When searching for a site to play at the , ask yourself the following question, where is the site licensed? There are many jurisdictions and only a handful of them are reputable. Trustworthiness and jurisdictions are normally tied in together. This information can be found in the "About Us" section. If this information is missing it's best to avoid the site.
If an operator is licensed in Alderney, Curacao, Gibraltar, Isle of Man, Kahnawake Gambling Commission (Canada) or Malta; rest assured that they are reputable and a good start to kick off your online gambling foray. Before an online casino can operate in any of these jurisdictions they must adhere to their quality guidelines otherwise they will not be granted a license. In the event of a payout dispute they also act as mediator between the casino and the player. Online casinos that are licensed in reputable jurisdictions have a responsible gaming (betting and session limits and a self-exclusion) policy in place to problem gamblers.
If an operator is licensed in Costa Rica, take a wide berth. This is without a doubt the worst gambling jurisdiction. Unfortunately this country has become a spawning ground for rogue online casinos. The Costa Rica government is very slack when it comes to enforcing its gambling policies and player protection is virtually non-existent.
1.2 Software Providers and the Games Offered
The competition between online casinos is fierce since every site is jockeying for players and more players. To remain competitive in a very crowded market place they must offer a certain amount of games, quality promotions with cash back incentives, responsible gaming policies and cutting-edge graphics.
One-branded casinos are a thing of the past. Today, many sites use various software providers such as Microgaming, Playtech, Sheriff Gaming, NextGen or Net Entertainment (to name but a few) to power their gaming platforms.
The bigger the game variety the better. A decent game library includes table games, progressive jackpots, slots, lottery, poker, sports betting, live casino and specialty games like keno and scratch cards. Most players, especially the seasoned ones take into consideration the gaming realism. It makes for a more pleasant experience and it indicates the casino's level of professionalism.
Live Casinos
The next stage of online gambling is live casino and mobile betting. Live action gambling, is the marriage of burgeoning technology that provides 3-D digital realism. It is a huge advance in gaming technology and a boon to players who want to play their favourite games like blackjack, baccarat and roulette against live dealers. Mobile gaming once considered the "infant" of the gaming industry is now a serious contender.
A recent study by Google indicates that half of all game play takes place on a mobile device, with 13 percent of play on a tablet. Strategy Analytics, tracks the smartphone market. In 2012 the number of smartphone in use surpassed the 1 billion mark. International Telecommunications union states that there are 6 billion mobile subscriptions in use. Simply put, smartphones account for approximately 17 percent of the market. And the market is growing at a prodigious pace. Analysts predict that the annual growth rate could be as high as 42 percent by 2015.
As smartphones and tablets grow and a new generation of players become mobile native- the importance of delivering online gaming content to smartphones and tablets will become crucial.
1.3 Certification and Audit Reports
Any reputable operator posts the findings of its audit report on its website. Players can see the average return of each game to the player. It also indicates that the site is fair and transparent. Various firms like TST (Technical Systems Testing), eCOGRA and iTech Labs test the RNG (Random Number Generator) of casino's software.
1.4 Morality of the Online Casino Industry
One affiliate manager at GPWA made a very interesting comment when he said that being employed in the online gambling industry "won't buy him a ticket to heaven". Strictly speaking, this just about sums up how most folk feel about gambling in general.
I'm not going to try and justify the industry since it is marred by greed and corruption. In its defence, many governments are busy regulating it and compelling online casinos to impose betting/session limits, self-exclusion options to problem gamblers and the necessary software to prevent minors from gambling. At the end of the day the onus is on the player to use these tools. If casinos don't adhere to government policies the maximum penalty must be imposed.
Online gambling should be seen as a form of entertainment and not a get rich quick scheme.
2. Casino Affiliates
2.1 What Are Affiliates?
An affiliate is someone who is a conduit between the internet gambling site and the player. He/she refers a player to the online casino and receives a percentage on the player's losses (Revenue Share). There are various forms of commission schemes. The revenue share deal is the most popular. Other deals include CPA (Cost Per Acquisition), hybrid or flat fee deals. When negotiating a deal with a casino it primarily depends on the affiliates' website ranking in Google (SERPS). The higher it ranks in the SERPS the better the deal the affiliate can negotiate with the casino.
2.2 Affiliate Managers
Affiliate managers are responsible for the casinos' affiliates. They provide affiliates with banners, screenshots of the casino, game reviews, answer queries and so forth. They are employed by casinos as full time employees and do not work on commission.
2.3 Is it Ethical for Affiliate Managers To Operate Their Own Portals?
In my humble opinion, no. I feel it's a conflict of interest since the affiliate manager is the person that has access to the affiliates' stats. In other words they see the amount of players the affiliate refers to the casino and how much they make on a specific player.
If an affiliate manager operates his/her own portal nothing stops him from 'detagging' the player from the affiliate's account and adding the player to his affiliate tag. I'm not saying this is the case with all affiliate managers but it's always a possibility. Instead of looking after the affiliate's interest they are now in direct competition with him. They also learn the ropes first, when they've gained enough insight into the industry or "harvested" a certain amount of high-staked players they start their own portals.
Operators must add a clause to their contracts prohibiting affiliate managers to run their own portal casinos whilst they are employed by the casino.
3. Watchdogs
I'm only going to mention the watchdog sites that have serious clout in the industry and who champion the cause of affiliates and players alike. In an effort to keep the largely unregulated online gambling industry honest, some dutiful webmasters have created watchdog sites. They serve as online guardians to gamblers by reining in corrupt sites that take advantage of ill-informed players.
As mentioned previously, online gambling has a stigma attached to it since players are seen as cattle. High-value players are referred to as "whales" since they gamble large amounts of cash. Therefore, the more cash a player loses the bigger the commission the affiliate stands to earn.
If an online casino refuses to pay the player, these watchdogs will intervene on behalf of the player. Obviously this also depends if they player honored the terms and conditions of the casino.
GPWA (Gambling Portal Webmasters Association)
A reputable gambling organization. Michael Corfman is the captain of this ship. GPWA's forum is a get-together for casino affiliates where they can discuss pressing matters about the casino industry as a whole. Affiliates can also apply for the coveted GPWA seal which certifies that their site's are reputable.
GPWA charges affiliate programs a fixed fee to be listed as Platinum, Gold or Silver Sponsors. Programs must adhere to its quality guidelines otherwise they face suspension.
Affiliate Guard Dog (AGD)
The chap at the helm is Andy who also happens to be a qualified civil engineer. At times Andy can be meaner than a junk yard dog since he's a staunch advocate for affiliates. Affiliate programs who want premium listing at AGD must ensure that their terms and conditions are affiliate friendly.
Casino Affiliateprograms (CAP)
Another reputable affiliate forum where affiliates can discuss the latest trends pertaining to the online casino industry and affiliate programs/casinos that have gone rogue. Warren Jolly is the owner of CAP. This program also received a lot of fleck recently since it advertised unethical operators. As such it lost a lot of valuable members.
4. Rogue Online Casinos
There are many scam operators out there but none is as diabolical as the rogue casino. If a player wins a progressive jackpot of $100,000, the rogue casino will dredge up every conceivably excuse in the book not to pay the player's winnings. Popular excuses are:" We have not received all your verification documents, "We are busy processing your documents", "You have violated our terms and conditions" and so on.
To compound matters further, rogue casinos also pay out huge/progressive wins in installments over a certain period. This is a sly tactic most casinos employ. In principle it encourages the player to wager back the cash they've just won. For example, a progressive win of $1 million will be paid out in installments of $5,000 per month until the player is paid in full-you do the math. Reputable casinos pay out progressive wins in one lump sum. Some rogue operators go so far that they even abscond with player deposits.
While the online gambling industry has come a long way, and relatively safe, there are always a few sharks swimming around trying to make a meal out of you whenever they can. Before signing up at a site, do a search on it first and read its terms and conditions carefully. Chances are pretty good they've already been discussed at GPWA, AGD or CAP.
5. Responsible Gambling
The majority of operators today have a responsible gaming policy in place. They allow punters to set their limits on losses, session limits and a self-exclusion option. The latter version allows players to ban themselves from the casino up to 6 months to indefinite. 
I have read numerous authoritative articles on internet gambling and some scholars claim that players who wager online are more susceptible to becoming problem gamblers as opposed to those who play at land-based casinos. However, there is no substantial evidence to back this claim up. 
6. Gambling Awards
Every year the EGR Operator Awards is held in London. It rewards the movers and shakers of the online gambling industry, it brings together 700 plus eGaming operators and various other industry professionals. To say the least, it's a swashbuckling affair with much pomp and ado.
iGB Affiliate
iGB is the biggest provider of information, analysis and insight into the affiliate market. It attracts loads of exhibitors and more than 2,000 delegates. Its magazine is read by more than 5,000 affiliates making it one of the biggest publications in the market.
London Affiliate Conference
Held from the 7 to 10 February at Old Billingsgate in London. The London Affiliate conference is always a huge success since it's the perfect platform where iGaming professionals, online casinos and affiliates can interact with each other.
iGaming Super Show, 11 to 14 June
This is the biggest iGaming exhibition in the industry. With seven events in its stable it's guaranteed to meet industry professionals' needs, and it gives insight into global gaming market through magazines, websites, events and webinars.
Barcelona Affiliate Conference, 3 to 6 October
One of the most popular affiliate conferences held in sunny Barcelona. It gives insight into the player volume of the online gambling industry, security issues, regulation and gaming jurisdictions.
iGaming North America
The aim of this networking and educational event is to introduce land-based casinos to the global iGaming industry. It provides a cost-effective networking environment which analyses the potential impact of internet gambling legislation in the United States and Canada.
7. Online Gambling Legislation USA
Since the UIGEA (Unlawful Internet Gambling Enforcement Act) was promulgated in 2006, the world's largest gaming market outlawed all forms of gambling over the Internet. The UIGEA, also known as the Safe Port Act combats money laundering in the US.

The aim of the Safe Port Act is to stop terrorists from smuggling firearms illegally into the US via shipping containers. Federal legislation also prohibits US residents from using their credit cards to deposit funds at an online casino.

The US government realizes that it's losing millions of dollars in taxable revenue to offshore gaming operators. More often than not foreign based sites are not regulated as such the American punter is the one coming off second best. Hopefully 2014 will be the year where online gambling is fully legalized in the US.

Reference

1. Gregory Manter, The Pending Determination of the Legality of Internet Gambling in the United States, 2003 Duke L. & Tech. at http://www.law.duke.edu/journals/dltr/articles/2003dltr0016.html

[addtoany]