Interview with Maria Florides of BetsKing Casino
Maria Florides, Brand Manager of BetsKing Casino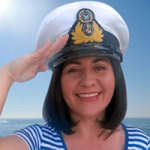 The Harbour Gaming affiliate program is expanding rapidly, housing at the moment four brands: BetsKING Casino, Yachting Casino, Long Harbour Casino and Monte Casino. My role is to ensure that the affiliate program runs smoothly. There are many tasks involved such as approval of accounts, setting up commissions, the upload of all marketing materials to the affiliate banner farm section, keeping our partners up to date with the monthly newsletter and the partner's website news section, constantly searching for new partners, looking for great and innovative ways.
How long has BetsKing.com been in operation now and what is the operator's main selling point to players?
BetsKING has been in operations since 2013. At first BetsKING targeted Turkish players, but since 2014 the targeting audience has shifted to the Germany and the UK markets.
I believe that BetsKINGS main selling points are the fantastic array of latest slot games such as Starburst, Game of Thrones, etc.
In addition to the great game, BetsKING offers promotions which are available across all devices. Also our support team is very knowledgeable and helpful giving players a great gaming experience. BetsKING now holds the UK license; this is an essential feature which allows UK players to feel protected and play with a peace of mind.
I see that BetsKING Casino carries a dual licensing any particular reason for this? In which jurisdictions is it licensed?
BetsKING operates on the B3W Group Gaming platform and it is licensed under the Gaming Jurisdictions of Malta and UK. The Maltese license is one of the strongest jurisdictions for .com gaming sites and the recently added UK license opens up new marketing channels opportunities in the UK market.
Aside from the deposit bonus to new players, the operator does not offer many promotions at this stage. Can you tell us a bit more about the site's forthcoming promotions?
I don't really want to give too much away as we wish to surprise players with the new promotions. In a nutshell, I can tell you that the promotions will improve; they will be more targeted and more diverse. Due to the excellent selections of software provider working alongside us such as MicroGaming and NetEnt, the potential for good offers will be endless. Our marketing team is hard at work planning and getting these promotions ready. I am afraid you will have to stay tuned if you want to find out more.
Does it offer a 'Rewards Program' to regular depositors? If it does tell us more about it?
At the moment BetsKING does not have a VIP program. This one of the many things we will be integrating in 2015. We are eager to provide players with great incentives and a good VIP program is an excellent tool to do this.
With a numerous software providers comes an extensive game variety. Which software providers' games are popular with players? What's the biggest cash amount BetsKing paid out recently, on which game/s was it and where was the player/s from?
Netent is by far the most popular provider amongst BetsKING players. Recent cash payouts in recent weeks were €7720 on a B3W game "Jacks or Better" and €1000 on Netent's Starburst .
I see that any amount lower than 50,000 Euros is paid out in one lump sum. Amounts larger than 50,000 Euros will be paid out in increments of 5,000 per month until paid in full. Any particular reason for this?
The Casino reserves the right to establish its own payment terms to which terms a player must accept upon registering to the site. There are no regulations that stipulate such payment terms as long as the casino honors its payout commitments as BetsKING and all other sites operated by B3W and Gantor have done.
What is the operator's current payout percentage for all its casino games? Which games (list 4) have the highest payouts?
The average RTP percentage for all the casino games is 95%.
The top 4 highest payout games on BetsKING are:
1. Golden Shamrock by Netent
2. Pac Machine by B3W
3. Megadeth by Leander
4. Secrets of Horus by Netent
8. To ensure transparency which firm/s audit the software of BetsKING Casino? Are the audit reports posted at the website of the casino?
The B3W software is licensed and audited regularly by the licensed jurisdictions. BetsKING displays the authorized online seals of both Jurisdictions that are linked directly to the official sites of the jurisdictions. This is proof that all audits and certifications are in order according to the gaming regulations of both jurisdictions. Each jurisdiction uses its own audit processes and they monitor BetKING's and other site that fall under the B3W and Gantor licenses on a regular basis.
What is the maximum daily withdrawal limit and how long does it normally take before a withdrawal is cleared?
To speed up the withdrawal process which verification documents are needed.
-maximum daily withdrawal
The max amount per request is €5,000.00.
-Withdrawal time frame
Withdrawals will be paid 2 business days after the request is delivered to us, and they can be subject to any reasonable necessary security reviews required by the Company. During this time frame the player can cancel his withdrawal at any time.
However, note that on the T&C specifies that: unusual and large withdrawals might take longer to be processed as they need to go through extra checks before being approved by our compliance department. In certain cases should your winnings exceed €5,000.00 the funds will be paid through Bank Wire in increments of €5,000.00 per fortnight until full settlement.
Documentation requested: 
A copy of all credit cards (front and back and full 16 digits) used on the Player's account.
A copy of ID card or passport with photo.
A copy of a recent utility bill matching the recorded address on the Player's account.
The documentation requested can be found on the link "account verification" of each site:
For example on yachting: http://www.yachting-casino.com/en/account-verification
1. Front and Back copies of Government Issued ID (Passport, Driver's License or ID card).
2. Recent Utility Bill (not older than 3 months).
*For each bank card used to deposit on our site:
3. Front and Back copies of the card used.
On the front: Only the first 6 digits and the last 4 should be visible.
On the back: Please always hide the CVV (the last 3 digits on the back of the card).
*Please note that we reserve the right to request additional documentation.
The documents need to be sent to [email protected]
We reserve the right to request additional documentation.
What's the best piece of advice someone has ever given you? did it stand you in good stead thus far?
It's not so much something someone ever told me. I am the type of person that believes in "do as I do not do as I say"! My father was a do as I do person as well and he was the best example for me to follow, he was always up bright and early, worked hard all of his life, provided for the family and make sure that at the end of the day he was proud of the work he did. So I am just trying my best to follow his footsteps. This has helped me on all areas of my life.