Interview with Mark Kelly of Lucky Vegas 77
Mark Kelly, Brand Manager of Lucky Vegas 77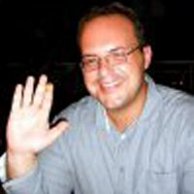 We like LuckyVegas77 Casino therefore we decided to interview one of the casinos employees to get an insight into their operation. Mark Kelly was kind enough to answer our questions.
What prompted you to join the online casino industry?
Basically, 9 years ago I needed a job! At the time I didn't even know online casinos existed but I am very glad I got into this industry and don't intend to leave.
What do you like about LuckyVegas77 Casino?
I most like the fact that we are very responsive to customer's feedback. We are always looking to improve and always ready to listen. A good example is that we recently lowered the minimum bet per line on our slots. This was directly due to customer feedback.
The most popular promotion players tend to go for?
As a new casino, our most popular promotion is currently the welcome match bonus, followed by our monthly match bonus and then our various weekly offers such as the 77Bonus.
The biggest mistake players tend to make when they accept the deposit bonus, and any other bonus offer?
The biggest mistake would be not checking which games don't count towards wager requirements.
What advise would you give to new and current players?
I would advise anybody who plays online to look at the overall site when deciding where to play and not just one flashy aspect of that site.
Just a few examples:
How easy is it to contact customer support and how helpful are they?
How easy and quick is it to make a withdrawal?
How reasonable are bonus terms and conditions?
How enjoyable are the games?
What defines a successful player?
I think everyone would define 'success' differently but I would say that it is someone who wants to win of course but also wants to enjoy themselves. That way, if they win at the tables then they are 'successful' but also if they lose at the tables then as long as they enjoyed themselves then they are still 'successful'. There is no point doing something you don't enjoy.
How does Lucky Vegas77 Casino treat problem gamblers?
We are very sensitive to problem gambling. Each of us at LuckyVegas77 has been in the industry for many years and knows the very real results of problem gambling. For us, it is not a business issue but a human issue. We have a responsibility to help keep everybody safe.
Broadly speaking, there are two types of problem gambler; the ones we don't know about and the ones we do know about.
Anyone using our site can access the 'responsible gaming' dialogue from any game, allowing them to set limits on their bets and losses per session.
Additionally we have a complete page with advice on what to do if you feel you cannot control your gambling.
If somebody tells us they have a problem then their account will be closed permanently. Additionally they will be removed from any mailing lists and we will not contact them again.
Since LuckyVegas77 Casino caters mainly for European players where do most of your players come from?
Our players come from all across Europe, I am pretty sure we have had at least one player from each country. Additionally we do get many players from further afield like Canada, South Africa, Malaysia and others.
If there's one thing you can change about the online gambling industry what would it be?
There is a lot I would like to change but if I could choose just one thing then I would change the air of mistrust that is everywhere. Whenever players, affiliates and casinos deal with each other I feel there is always a certain amount of suspicion. 99% of the time, mistakes are indeed just mistakes and it is what is done to rectify them, avoid them in future and treat each other when they do happen, that is the measure of each person.
If a player has a dispute with the casino which procedure must the player follow?
First of all the player can contact us directly and we will try our best to solve it in-house. Alternatively the player can also contact the Lotteries and Gaming Authority of Malta but I suggest the player contact us first.