Interview with Mark Coupland of ParadiseWin Casino
Mark Coupland, Casino Manager, ParadiseWin Casino of ParadiseWin Casino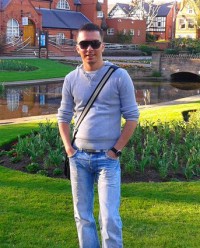 I started working in the gambling industry about 4 years ago as a freelance worker, my responsibilities were limited to various routine assignments. I updated the information on webstites, worked as a support operator and made other random assignments.
Gradually, the casino management evaluated my work as excellent and offered me a full-time job at their casino. I started doing all the things I already did only this time round as a permanent employee. With time I became a valuable employee and gained extensive knowledge about the gambling business.
At first I was a bit skeptical since I heard about fraudulent and criminal activities that some online casinos were engaged in. However, it did not take me long to realize, that ParadiseWin was fair and did not intend to violate the privacy of its players. After some time had passed, I became ParadiseWin's manager and I continue to perfect this casino and make it one of the most popular on the net. Now I am a happy senior manager at ParadiseWin casino and I wish everyone can find their place just like I did.
When ParadiseWin Casino went online for the first time, what were the biggest challenge/s the operator faced?
ParadiseWin was the first casino we launched with a new platform. When facing something new and operating something, you have not had any connetion with before mistakes and complications are inevitable. We needed some time to get used to the new system and had to learn more about it in a very short while. Although it was new to us, we were in the business for quite some time which enabled us to adapt to any changes and all possible scenarios. It is hard to point to a single challenge we faced but the overall feeling of something new is both challenging and exciting.
Would you say cybergambling has got a negative connotation to it, please elaborate?
Any business at one point or another will have it stereotyped and dismissed, this is no news. We have to realize that there are of course individual fraudulent gambling sites, which give the overall industry a bad name. Just like in any other business, regardless of what is being manufactured or sold. Some unethical techniques have been used to attract players since the dawn of the industry, but people must realize that times have changed since then and casinos all around the world are very careful to not lose their license for just a "quick buck".
Gambling institutions answer to a high level of overseeing control groups and while most of them gain respectable status, some end up in black lists and lose their business. Also, players who have gambling addiction, may display a discontent with the most fair gambling houses, when the source of player's discontent is not casino's fault. These people need help and all casinos must encourage them to get professional help, not to stain their own and the casino's reputation.
There is a saying: "Know your limit – Play within it". Here at ParadiseWin we treat players with respect. We play fair no matter what and do our best to uphold our own, gambling business' and the player's reputation at its highest value and believe in fair play. That is, basically all we can do as we cannot just delete all the frauds and criminals from the internet.
Can you tell us a bit more about ParadiseWin's promotions and which promotion would you say is your favourite? Which suite of games does the SBtech and GamesOS/CTXM power?
ParadiseWins' promotions mostly consist of either percentage from a deposit (usually 100% - 150%) or free spins, sometimes both, like in our Welcome Bonus which is 150% and additional 30 free spins. Free spins are an absolute favourite among players and we try to make their stay as pleasant as possible, so we make them quite often. As for my favourite, I think that the most fun is to make something which is themed.
We regularly make promotions with some kind of contemporary holiday or an anniversary of something. Just this March we made promotion for the UN approved National Day of Happiness, giving away 100 free spins and on February the Valentine's Day bonus. I believe that when you keep the same promotions day after day, year after year, you lose touch with players and don't use your creativity. Our team is very creative and it is always fun to research and make something new for the customers to enjoy.
GamesOS is a much underrated software, in my opinion, it has good graphics and is as fair just like any other software. I, enjoy playing their slots and the softwares table games are also quite good. We use SBTech software for our sports betting section. It is a great software and I really encourage anyone to try it. Even if you are not a sports fan you should at least appreciate a great performance of this software and try it.
Does the operator offer returning players a VIP program? How does it work? Also, tell us about its comp point system?
We certainly have a VIP program. As I previously said, we respect our players and believe that this respect is best shown if you reward the loyalty of the customers. Our VIP program has various features like a weekly cash-back of 20%, personal support assistant and overall improved experience. We review our players' weekly activity and send the most active ones a personal letter with a VIP offer. These letters usually contain the no deposit promotion as a reward for active playing and loyalty. Presently we don't offer a comp point system, although everything may change with time.
I see that the playthrough attached to the sign on bonus is very steep (80xb). As such we've awarded it our Court Jester Badge (CJB) (www.cassaon-casino.com/online-gambling-court-jester-badge/). In the best interest of the player, would it be possible for management to lower the playthrough?
We make all the bonuses and make playthrough higher or lower based only on player activity. The fact of the matter is, players do fulfill the requirements of this wagering and it happens more often then you might think. Sure, we are always open to suggestions and if statistics and player activity decreases or we receive a complaint, we surely change the Terms and Conditions to suit players more. We try to be very client friendly and if playthrough should be lowered, we will not be stubborn, we will lower it so that players are rewarded. Currently the majority of players are perfectly satisfied with our policy.
Internet gambling keeps on reinventing itself, over the years we've seen the addition of fantastic new software providers and new types of games. What's your take on the 'Live Casino' and for the sake of the novice player can you please tell us what it entails?
Live Casino is actually one of my personally favourite features. It has everything a gambler might like. A real casino experience without walking out of your house. You just sit infront your computer while a real dealer is showing you the results of your bets.
Roulette, craps or poker games, most people don't realize that these can be highly social games and having a real person present it to you is an experience on its own. Surely some people are glad about the opportunity of Live Casino feature as most of these people have never been to a real casino and have no ability to do so for different reasons. This is like a whole journey and it is really one of the best inventions in the industry. And of course, how can dislike the Live Casino if most of the dealers are gorgeous women?
In your expert opinion, what are the qualities of a great online casino?
First and foremost it is the high quality support professionals, as mostly they are the ones that represent a casino. A bad support agent can make any business crumble, just on the representational grounds and a great one can turn even a mediocre casino into a palace.
Support agents are the link between the administration and the player, if that link is optimistic and looks after the player's interests, the player instantly feels secure and comfortable at the casino. The second I would point to is that the operator must run innovative promotions.
No one can expect to be successful if promotions are lacking in popularity, even if you have the very best software, all possible deposit and withdrawal methods and a masterful design. At ParadiseWin we found our niche and we know what our players like and what bonuses have to be offered to them to have a pleasent gambling time.
I'm glad to see that progressive wins are not included in ParadiseWin's withdrawal limit. How does a progressive jackpot network work and how would a progressive win of $200,000 be paid out?
Most probably I would take my personal jet and deliver the player's winning to his/her door (joke). Our priority is an individual approach to every player, we would contact this lucky guy or lady directly and discuss the preferred payment respecting his or her privacy.
ParadiseWin.com carries a Curacao license. What makes this jurisdiction such an attractive destination for internet gambling sites? What is the criteria the operator must adhere to before it qualifies for a license in this jurisdiction?
Curacao license was only the first step in the gambling world. At the moment we are working on getting a UK Gambling Commission license.
There is a huge list of requirements before a casino can get a Curacao license. In fact you need to prove that your activity is safe and not fraudulent.
Here are some main requirements:
Record of the owners of the company.
Description of the games offered.
Details about the software.
What advice would you give to first time players and where do you see the online gambling industry in another 5 years time?
Firstly be responsible and keep in mind that gambling can cause an addiction. Still if you are a healthy and vigilant person, I would offer you to not be afraid to experiment with a lot of different games, try classic table games and try slots from different software providers. Try different promos to see which ones make you happier and which ones can make you win more.
I cannot see the future, but among my biggest desires is to see new generation games, where a player may have a fully transformed experience. Today, we witness games that almost emerge a player in a virtual reality and I think, that creativity is boundless. So maybe in another 5 years casino games will be absolutely different and more anticipating. I think that in 5 years time by natural selection, most of the fraudulent casinos will be closed and a tendency to cheat a player will be exceptionally rare. Probably in 5 years time online gambling will no longer be stereotyped, as you asked me earlier.