Interview with Ethne Petersen-Dreyer of River Belle
Ethne Petersen-Dreyer, Live Dealer Support of River Belle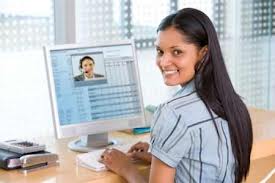 Ethne was kind enough to take some time out of her busy work schedule to answer some of our questions. Thanks Ethne
What prompted you to join the online casino industry?
Gambling has always fascinated me. From the days of the mafia all the way through to the movies who glamourise the industry such as Oceans 11, etc.
What do you like about River Belle Casino?
The feeling of old school glamour and of days gone by. Old money, grand balls and ladies decked in diamonds. Of sailing down the Mississippi on a river boat.
The most popular promotion/s players tend to go for?
Our promotions must appeal to both the older and younger generations. We offered a trip to the Canadian Grand Prix last year that was a smashing. We also do themed monthly promos such as the Mardi Gras and Stampede which is an annual event in Canada. Players don't necessarily go for a Big once off prize. Sometimes it's good to break up prizes into weekly divisions so that you appeal to more players.
The biggest mistake players tend to make when they accept the welcome bonus, or any other bonus offer?
Bet size is important and remember that you are playing for entertainment value. If you are only playing to chase that big win then don't play.
What advice would you give to new and current players?
Know how much you can spend and don't go over that limit.
What defines a successful player and online casino?
The casino needs to be secure and protect the player and the player must remember that it's a casino and you're not always going to win but you can always have fun with the right mindset.
How would you describe the wagering requirements for the welcome bonus of River Belle Casino, could you please give us an example?
In layman's terms, the wagering requirements are quite simply 50 times the player's deposit amount. At River Belle the offer is 100% match up to 200. We will match any deposit up to maximum of 200 and you will need to wager you bonus amount 50 times. 
Which casino games are a hit with players and why?
Games with good graphics, and all the bells and whistles you would normally find in a land based casino are very popular. Bright colours and bonus rounds and freespin options. Mad Hatters is very popular for all the above reasons. Movie based games like Tomb Raider, Thunderstruck II etc.
Is River Belle committed towards responsible gambling?
Absolutely. We at River Belle abide by eCOGRA's Responsible Gaming requirement rules and we also actively ensure that we inform our players that they can set their own Daily, Weekly and Monthly limits. Players can also have themselves self excluded should they feel the need or if we feel that it's the responsible thing to do.
What deposit and withdrawal options are currently popular with players?
Visa and MasterCard are always easier to use but web wallets are great to. In Canada Moneybookers, Neteller and UseMyFunds are all popular and easy to sign up with and use. When a withdrawal cannot be sent back to the card or wallet used, players can select either Cheques or Direct bank transfers. It is all a very streamline experience that our players get when attempting to purchase or withdraw.