Interview with Magnus Åhman of Vera&John
Magnus Åhman, Live Casino Support based in Malta of Vera&John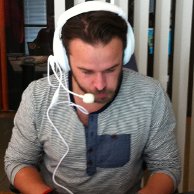 Magnus from Vera&John was kind enough to grant us an interview. Thanks Magnus
What prompted you to join the online casino industry?
I wanted to get into a fast moving and competitive business and certainly got what I signed up for. In this business you constantly need to be on your toes, the moment you relax slightly you find yourself eating dust in the track of competition. Online gambling is still a fairly young business which constantly is evolving, you can see it month by month, the progress is astonishing. I have worked with several gambling products but find casino to be the most thrilling to work with.
What do you like about Vera&John Casino?
Vera&John is a completely new addition to the market. We wanted to create a softer product that sticks out yet maintains a proper casino feeling that appeals to both women and men. I like Vera&John because there is a social aspect to the gaming. Users can create their own rooms and fill them with their favourite games, you can even add your own music play-list to your room. Other users can take part of the rooms and share other people's gaming experiences. In addition Vera&John offer a wide range of games from four different providers, it is really a one stop shop for casino lovers.
What are the most popular promotion players tend to go for?
I would say that some our most successful promotions has evolved around one of our many vacation offers. In the first year of our operations we've sent several people to Las Vegas, Macau, Miami and Stockholm as well as couples and friends on small weekend getaways. We strongly believe that people are different and therefore also look for different things, which is why we design a vast set of promotion types which each uniquely cater to what our different customers look for, whether in combinations or as self standing promotions.
What is the biggest mistake players tend to make when they accept the deposit bonus, and any other bonus offer?
Most often users do not read the terms and conditions about bonuses and campaigns. It is a constantly ongoing process of ours to improve communication and transparency about our offers since it is such a difficult task. People simply lose interest after only having read a few seconds online so communication needs to be short and concise. Sometimes it is the fault of bonus or offer takers but most of the time it is the communicators fault not being informative enough.
What advise would you give to new and current players?
Feedback, feedback, feedback. The one nominator which is always true and the only way your casino can provide you with what you look for is through knowing what you want. Some casinos are more responsive than others and that must be one of the best advice I can give - check reviews and test your new casino before you start spending too much time there - the good casinos will listen to you and furthermore as you play, offer you better and better promotions to improve your entertainment value.
What defines a successful player, and online casino?
Again different people look for different things and therefore being successful depends on whether or not you received what you looking for or even more. According to independent and global research organizations, the vast majority of players look for entertainment when playing casino, much the same as going to the cinema or to others jumping out of a plane to skydive. We believe that a successful player is someone who received more entertainment value that he/she looked for and in some cases that life changing big win.
If online gambling is legalized in the United States again would Vera&John Casino enter the US market?
We would certainly be very interested in offering our services in the United States, however as everywhere else, it will depend strongly on what regulatory environment is put in place.
Since Vera&John Casino caters mainly for European players where do most of your players come from?
When we started a year ago, our decision was to get it right from the start, why our attention was mainly prioritized in Scandinavia. We've in the last year however broadened out and now cater pan-European. We will in the near future increase focus on other continents such as South America and Asia.
How does Vera&John treat problem and under age gamblers?
First and foremost we're very diligent when it comes to making sure players are who they say they are. In case it's discovered that an under age player somehow managed to find a way through and still play, we attempt to get in contact with the parents/guardians in an attempt to prevent any future issues as well as void all transactions that's occurred. With problem gamblers we have a long line of organisations that locally specialise in helping people with gambling problems, who we refer these players to. We of course make our different checks to see if some players fall inside risk groups and pro-actively engage in communication to find out whether or not they would benefit from being referred.
If there's one thing you could change about the online gambling industry what would it be?
Further regulation that caters for open market competition between casinos without having a scenario of renegade casinos that taints the industry from malpractice. It's imperative that we achieve a situation which caters first and foremost for the customers and that requires a liberal structure. Certain markets have attempted to bypass EU and continue with a monopoly structure or at best one which by nature only caters for a very few top casinos. As seen with Denmark however we now have a model which allows for diversity in Casinos without conflicting with consumer protection and tax requirements.