Legal California Online Casinos & Gambling Regulations
State of California Online Gambling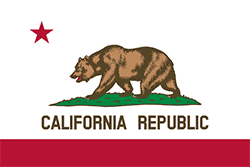 With a total population of 38 million residents, California is also known as "The Golden State". At approximately 155,000 square miles it's also one of the largest states in the US.
Presently the state has more than 150 legal land-based casinos and card rooms. You're most probably thinking that California will give Las Vegas a run for its money. To a certain extent yes but the majority of the casinos are situated on Indian reservations and they can be a tad confusing at times. In this article I'm going to provide you with the ins and outs of gambling in this state.
Legalized horse betting and casino gambling date as far back as 1933. Since it's also one of the most populated states in the US it also boasts one of the biggest horserace tracks in the world. As a result the government had to amend its gambling legislation to accommodate its six tracks as well as its 30 off-track betting properties.
What's the State's Stance Toward Gambling Online?
Although the Federal Government said it's up to individual states to legalise and regulate online gambling, many states still feel that the cabbage is not worth the sauce. Reason being some states have larger populations than others and 25% of the population age are younger than 18.
California is not a problem since it boasts a total population of 38 million residents, therefore a state-run online casino will be very profitable indeed. Unfortunately, the government has not imposed a bill that will regulate online gambling and poker rooms. In part the Native American casinos are to blame for this. They feel that if legalised, online gambling will have a detrimental impact on their land-based casinos.
State officials tried to pass laws to regulate it but so far it's been fruitless. If you're a resident from California you are allowed to gamble online. In essence it is not a crime to wager online and you won't be taken into custody for it. Also keep in mind that the online casinos you're about to wager at are based offshore are not licensed and regulated by the state. If you want to play lottery you must be 18 years old. You must be 21 to play at online casinos this includes sportsbooks, poker rooms and bingo halls.
If you're interested in starting your own online gambling site in California you are not allowed to do so since it is illegal. You can only wager at an online casino. You will also be liable to pay tax on all winnings. If you are not sure about the gambling laws and taxation pertaining to online gambling in this state please consult an attorney who specialises in it.
Can I Wager at Online Sportsbooks, Poker and Bingo Sites?
California does not offer many offline sportsbooks or "bookies" as we call them. If you want some sportsbook action I suggest you do so online. Although we don't market sportsbooks since our main focus is online casinos, there's a ton of sites you can pick and choose from. When you sign up at a sportsbook do a quick search on it first to see if it's legal. Ask yourself the following questions before you sign up. Does it offer a decent deposit bonus with reasonable wagering requirements and how long does it take before my winnings are paid into my account?
It goes without saying that poker is a popular game in California be it online or offline. There are a myriad of online poker sites. Just make sure that they offer safe and secure deposit options, their softwares must be regulated by a third party and they must accept residents from the US. The state of California does not prohibit you from playing online but you must be 21 or older. The legal age to gamble online at offshore gaming sites is 18 years.
Bingo is not as popular as online casinos, sportsbooks or poker rooms. Before you sign up at an online bingo room make sure it runs on certified software, it's licensed in a reputable jurisdiction and it software has been certified by reputable auditing firms like TST or iTech Labs.
Famous Gamblers from California
The state of California boasts a fistful of millionaire poker players. One that stands out for me is none other than Phil Hellmuth. Although he originally hails from Wisconsin, Hellmuth calls Palo Alto home. He won more than $15 million in poker tournaments which includes an incredible 13 World Series of Poker bracelets.
Future of Gambling Online in California
As it is the US government is feeling the pinch financially and must come up with alternative solutions to provide additional employment and new revenue streams. To be honest, online gambling has a bit of a stigma attached to it irrespective of its huge potential. Aside from regulating and taxing it properly, the problems it faces are problem gamblers and underage gambling. Before gambling is fully legalized, online casinos must come up with the necessary software to combat these and a proper framework on how to prevent minors from gambling online.
The state of California is losing millions of dollars to online casinos based offshore. Even if it's legalised Native Americans will want a chunk of the pie. For the time being, until it's regulated residents from California must wager at online casinos based in other jurisdictions.