Interview with Richard Whitehouse
About Richard Whitehouse, Founder of The Good Gambling Guide.co.uk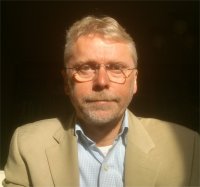 Richard Whitehouse is the founder of The Good Gambling Guide and with others along the way edits and creates all of the pages on the site. It covers all forms of gambling with information intended to help people understand a little more about the games they play or the bets they place.
Richard Whitehouse started out studying Physics but moved into computer coding soon after leaving college. Being a part time professional backgammon player brought him into contact with the wider gambling fraternity many of whom were in need of help using what was then new computer technology. It soon became clear to him that gambling could be far more profitable than a desk job, if not a little more unstable, so he took up gambling full time.
After 10 years as a professional the burgeoning world of the Internet offered the chance of setting up the The Good Gambling Guide with the initial aim of sharing some of the secrets of how to beat the casinos and bookmakers at their own game. From there it grew to its present size following the ever increasing array of ways to gamble your money online and in the real world.
Did You Know
They have been online since 1999.
They gave world renowned poker presenter Jesse May his first poker journalist job.
Gives consultancy for gambling related queries and legal issues.
The Good Gambling Guide has been online since 1999 and one of the oldest portal casinos in operation today? Has the Internet gambling industry changed a lot since then, would you say for better or for worse? Why do you say so?
Gambling online was quite basic back at the beginning of The Good Gambling Guide. There were a few major operators and their offerings were based purely on their real world business. For an example, Ladbrokes, then the world's largest bookmaker simply offered only bookmaking services. Since then that world has mushroomed steadily to now where all of the big names offer customers the ability to gamble in every conceivable way.
Software has improved enormously and regulation in serious countries (like the UK and its islands) is getting much stronger.
So on the whole I think things are better for the sensible gambler who wants to pick and choose for value with safety of their money. The caveat is that so much more has entered into the field of online gambling like slots and bingo where the house edge is ridiculously high and unwary customers have no real chance of winning.
Your site covers a holistic view on several gambling related niches, your articles are informative and well written. Does writing come naturally to you and do you do a lot of research on a specific topic before you post it on your site?
When I started out writing was certainly not natural but through the process of writing a book (unpublished until the end of 2015) about my experiences in the gambling world, I gained a lot of help from an experienced author who acted as editor for the original version. That gave me the confidence to write whatever is necessary for the site and requests from 3rd parties.
I always research as much as I can before writing but all of the main stream analysis of games and betting-for-profit came from my time being purely a professional gambler. In those days there was no Internet to speak of and the work had to be done from first principles with some hard graft in casinos and with bookmakers.
Regulation is and will always remain a 'bone of contention'. As more countries begin to see the revenue potential of online gambling, do you think regulation is the panacea to the problems that currently plague the industry?
No. Regulation has arrived too late on the scene. It is clawing the situation back gradually from the anything-goes nature of the current online gambling situation. Later this year the UK Gambling Commission (a big player in the world of regulation now) will force all licensed sites to provide a one click self exclusion option with the added opportunity to self-exclude from all online providers at once. This is good but its a little like making heroin illegal after selling it to millions of people. Its unlikely to change the world of problems we have in the industry any time soon, but it is needed.
As a seasoned veteran 'that's seen it all, done it all and got the T-Shirt'. Do you think that the software online casinos employ are 100 percent above board? Reason being a software provider, Amigotechs, 'rigged' its video poker was caught out by ThePogg.com.
Yes for the most part. The major operators have no need to employ underhand tactics. The games are all designed to favour the house anyway. If you are playing on a site that is not regulated by a major government authority you are just taking a risk that is too great. Don't do it.
Having said that there is always the opportunity for rouge software developers building in something for themselves and hacking is not out of the question, so your personal information can be at risk. I, however, trust the sites I use and would not contemplate using anything like Skybook. Then again, I don't play games that I can not beat.
I'd like to circle back to question 3. It pertains specifically to the UK gambling market. Do you think that the market is saturated and that the 'in-your-face' advertising campaigns from licensed operators in the country exacerbates problem gambling? Has the UK become a nation of gamblers?
The UK has been ahead of the game when it comes to freedom of gambling as a whole since the 1960 Gaming Act which made betting on horse racing with credit legal to all. The freedom to gamble on what you want in an open market is clearly a good thing. But for more than four decades after that act, and others, there was strict control on how these services could be advertised.
Since the National Lottery came to be and then the lifting on restrictions for advertising with the 2005 Gambling Act, the general public has been subject to a change of environment that now sees gambling as a regular part of life for all. It has become a generational thing, people older than myself still see gambling as a vice, to be handled carefully and occasionally, like The Grand National, for instance. But sadly I see people in their 20s and 30s gambling regularly because its a legal high that is just everywhere, and therefore it must be okay. It isn't, it needs to be occasional or because you think you have the information that gives you the edge.
In short the UK has developed a problem let lose on it by the actions of the government, who, admittedly once draconian and heavy handed, have now gone too far in allowing a free-for-all for operators to target vulnerable people. They are and are successful in doing so. The market being saturated is not a problem. That will sort itself out. Genuine punters are best served by too many players in the market. The canny player gets better value when operators over extend themselves in attempting to get customers through offers or higher than normal prices.
During your tenure in the industry which individual/s made a lasting impression on you and why?
My tenure in the industry extends over 25 years. The online part was originally just an extension of my professional gambling with an eye on the future. To be honest there is no one that stands out but I have been quite impressed by Michael Shackleford at the Wizard of Odds. He did great work whilst not (until recently) overly commercialising his operation. And of the old-timers, Stanford Wong (pen name), his book Basic Blackjack was anything but basic and so concisely written it saved me so much work.
The only person I have met that did not fail to meet the hype is Sir Clive Sinclair. A person that many have forgotten or never come into contact with. He not only invented the first programmable calculator but also brought the first computer into the homes of millions in 1980, thereby starting the world we know now where a keypad and connection to the world is omnipresent. He believed in his visions and stuck to them, even when they were wrong. That's good and bad I know but 30 years on he has a new computer coming out, the Vega. That is perseverance for you. And he is a good friend.
Mobile gambling has increased exponentially the last few years, to such an extent that industry experts reckon that it will surpass desktop gambling in future? Do you agree with this statement?
Why Mobile Gambling Is The Future
You have to say very probably yes. I have some technical experience of the mobile industry and there is an inexorable rise in the number of people whose only connection to the world is through their SIM card.
Increasing data resources from mobile networks will give tethering and data SIM services a massive presence in the next few years. The tide is only one way. This is definitely better for the operators and worse for the punters. Less information, less control and more spontaneous. Unless regulators step in, this is where we are headed.
In your expert opinion, what's the biggest challenge/s that currently faces the industry?
Politics. Politicians will go with what they think is beneficial to themselves by judging popular public opinion. So either that means trying to tax the industry out of business or regulating so strongly that everyone is affected adversely. The gambling industry as a whole is an easy target and online gambling very easy. If it is regulated or taxed so strongly that some go out of business there will be nobody defending it.
Your site is a treasure trove to any would-be gambler. If an operator you're currently marketing turns rogue, will you blacklist it? If yes, how will you go about it?
That is simple.
Dealing With Rogue Online Casinos
I remove them as much as I can from The Good Gambling Guide and then find an appropriate article or create one and post this describing what has happened. That has not exactly happened to us as yet but very well could.
Without naming any corporations I have certainly removed affiliate partners who have reneged on deals. They are big name players who decided that when they moved abroad that they could do what they want.
Online casinos offer new and returning players all kinds of incentives. Let's cover the deposit bonus. Are you a fan of it and would you recommend it to new players? Plus are their certain criteria the bonus must adhere to before you recommend it? If you ever decide to kick out the deck chair what's the most memorable thing you'll remember about the industry?
A deposit bonus should only be considered in deciding to join a particular site if your normal intended play will trigger the bonus anyway.
The Sign Up Bonus
The deposit bonus rules have changed across the industry to the point that fulfilling them just to claim the bonus creates a likely negative expectation to the player which is greater than the bonus.
Hence on average a player will be out of pocket but if you intended to play hours of roulette or similar then its extra money and can be considered.
When I get out of the industry, which I surely will, I will reflect positively on the way my site tried to steer people in the direction of safe places to play with safe guidelines in mind. That is a fight that will carry on after I have left the ring. From the real world gambling I can remember some fantastic highs and lows, mostly highs. Money taken from casinos and bookmakers is much sweeter than any other sort.

[addtoany]