Rugby World Cup: Springboks Ready For Samoa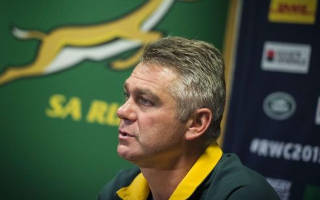 After South Africa's shock defeat (32-34) against Japan, Springbok coach Heyneke Meyer made seven changes to the team's must-win World Cup rugby match against Samoa on Saturday. If the Boks lose against Samoa they will be out of the World Cup.
The much-respected Duane Vermeulen is one of the changes and looks forward towards Saturday's rugby clash against the huge South Sea islanders at Villa Park. Meyer firmly believes that Vermeulen's inclusion in the team will make a huge difference. He said that the Boks were outplayed by the Japanese in all facets of the game and the time has come to up the ante. Although Vermeulen sustained a serious neck injury he said that he's ready to earn his rightful place in the team again and wants to make a telling contribution.
Meyer warned the Boks before the match not to underestimate Japan since the "minnows" improved a lot. Beating South Africa is only Japan's second World Cup win, the other one was against Zimbabwe. The Boks expect a very physical game on Saturday right from the very first minute up to the 80th. It's imperative that the players stick to the game plan and not deviate from it as was the case against Japan. "If we want to win we must place our bodies on the line," Meyer said.
Come Saturday, Meyer won't be able to placate the South African public with lame excuses any more. Schalk Burger, Francois Louw and Duane Vermeulen will be the loose trio. Frankly I'm surprised that the big number 4 lock, Lood De Jager has not been included in Saturday's starting lineup. In my opinion he was one of the few players in the Bok team who played a solid game against the Japanese. Meyer shifted him to the bench. Victor Matfield and Eben Etzebeth will be the starting locks.
Meyer Banks On Experienced Players
It's pretty evident that Meyer now relies heavily on his experienced players. He included veteran scrumhalf Fourie Du Preez and JP Pietersen. Players that lost their positions in the starting lineup are fullback Zane Kirchner, wing Lwazi Mvovo, centre Jesse Kriel, flyhalf Pat Lambie, scrumhalf Ruan Pienaar and flanker Pieter-Steph Du Toit.
Willie le Roux practiced at fullback whilst Damian de Allende and Jean de Villiers will form the centre combination. De Villiers shifts from number 12 to 13, Burger 8 to 7 and Bryan Habana 14 to 11. At this stage no one knows exactly what Meyer plans with his bench. Flanker Willem Alberts is still out with a calf injury and won't play against Samoa. Due to flue, prop Trevor Nyakane has been excluded as well. Some speculate that the Bulls scrumhalf Rudy Paige will be Du Preez' replacement but it remains to be seen.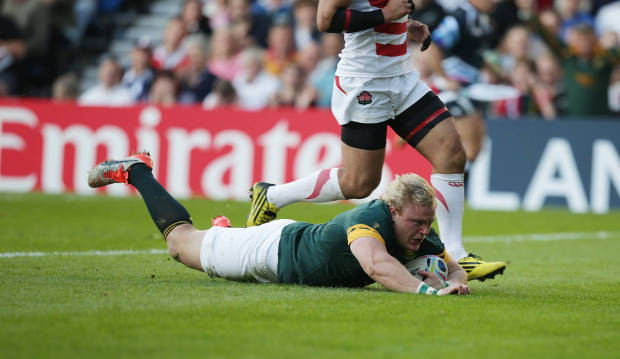 The Boks Lacked A Game Plan
"Springoks just an ordinary side now", Jake White
No other rugby team will fear the Boks again after their shock loss against Japan. Jake White, former coach of the Boks said, South Africa is just an ordinary team now. White lead the Boks to World Cup glory in 2007. The loss against Japan is the biggest upset in Rugby World Cup history and tarnished the reputation of a proud rugby nation. "Scotland is another side that believes they can win the Boks now", White said. He also said that the Boks lacked a definitive game plan, cohesion, proper leadership at times and should never have lost in the first place. He congratulated Japan and Eddy Jones on their spectacular win.
Boks Eager To Prove A Point
Monday's fireworks in the team and the South African public's outcry against the Boks' shock defeat against Japan might just have been the right medicine to get their campaign on track again. The Boks were their own worst enemy and did no follow Meyer's instructions. He said the Boks plan to keep ball in hand and to use the driving maul more often. The halfback combination for Saturday's game will be Du Preez and Handre Pollard. In a post match interview Pollard said, "I never want to experience a loss like the one against Japan again. It happened, we must learn from it and move on."
Samoa firmly believes that they can cause another major upset by beating the Boks on Saturday. Bryan Habana said they must prove to the rest of the world that they are still a major contender in winning the Rugby World Cup by beating Samoa comprehensively. It's going to be a physical test of epic proportions and no love will be lost between the two teams. The Samoans are known for their abrasive playing style, incredible strength and speed.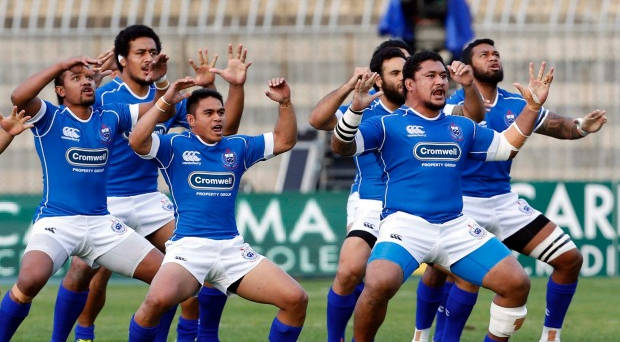 Image: www.stuff.co.nz
Jaques Burger, captain of the Namibian rugby team said that Japan proved that the so-called "minnows" can beat the bigger teams. His side has drawn a lot of inspiration from the Japanese game and hopefully they might cause an upset too. "To be honest we never expected Japan to beat South Africa", Burger continued in the same vein. Habana said the shock-defeat was one of the lows of his illustrious career. "It all depends on how we play and it's going to take a monumental effort on our part to right this wrong", Habana concluded.
Boks starting lineup: Willie le Roux, JP Pietersen, Jean de Villiers (C), Damian de Allende, Bryan Habana, Handre Pollard, Fourie du Preez, Duane Vermeulen, Schalk Burger, Francois Louw, Victor Matfield, Eben Etzebeth, Jannie du Plessis, Adriaan Strauss, Beast Mtawarira.
Reserves: Schalk Brits, Trevor Nyakane, Frans Malherbe, Lood de Jager, Siya Kolisi, Ruan Pienaar, Pat Lambie, Jesse Kriel.
Conclusion
No one knows exactly as to why the Springboks are battling with poor form in their last couple of games and won only 3 tests out of their last nine encounters. It's pretty evident that the senior players like Jean de Villiers, Ruan Pienaar, Jannie and Bismarck du Plessis are not up to their former high standards. Come Saturday there will be no more time for excuses, the time has come to start play winning rugby again otherwise a very premature World Cup exit might be waiting for them.

[addtoany]