Online Casinos:Court Jester Badge Awards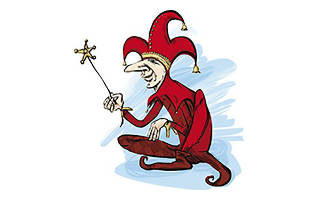 The world of online gambling is growing at a prodigious pace with new operators opening their doors for business every day. As such it prompted us to come up with a unique concept where we award our Court Jester Badge (CJB) to any operator that behaves unethical or that has dubious terms and conditions. In other words the CJB is awarded if an operator or term is not in the best interest of the player.
Recently we've partnered with five new online casinos. Before I state the reasons as to why we've awarded the CJB to all five of them, I just want to clarify that by no means are we out to slate these operators. Once the CJB is awarded we notify management. Our aim is to 'compel' them to revise a term/s that is non-player friendly. If the term is amended we'll then post it across the various message boards (popular casino forums such as GPWA, Eastern European Gaming.org and Affiliate Guard Dog) that the operator complied. Strictly speaking this is good PR (Public Relations) for the operator and we'll also adjust/increase the operator's rating accordingly.
"If an online casino is awarded the Court Jester Badge it does not deserve your business" Cassaon-casino.com
And The Court Jester Badge Goes To:
Lucky Balls
Noxwin
ParadiseWin
Hippozino
EuroKing Casino
1. Lucky Balls Casino: The operator belongs to the Long Harbour Group. In addition to Lucky Balls it has other brands within its stable. They are Betsking, Yachting and Long Harbour casinos, all of them are licensed in Malta. They are powered by quality vendors and are reputable since they operate within Malta's quality guidelines.
Progressive Jackpots: ''If the Jackpot winnings do not exceed €50,000.00, they will be paid through Bank Wire in one payment. Should they exceed €50,000.00, they will be paid through bank wire only in increments of €5,000.00 per month until full settlement."

I quoted it directly from the operator's terms and conditions. If you manage a progressive win of €500,000, it will take more than 8 years before you're paid in full. You're most probably wondering why we've awarded our CJB to this term? Let's look at it from this angle. The vendor (Net Entertainment) immediately pays the total amount ($500,000) over to the casino in one lump sum. If the vendor can pay this amount in one go why punish the player by paying him or her in ludicrous increments of €5,000.00 per month? I firmly believe it's unethical and a nice way to 'encourage' the player to gamble the cash he or she has won back to the casino.

Bonus Terms: First time players qualify for a deposit bonus of 100% up to €300 plus 50 free spins to play Starburst. Although this is a very lucrative bonus this is as far as it goes. The wagering requirements attached to it is 25 times the deposit and the bonus sum (50xb). Truth be told this is relatively steep and under no circumstance will I recommend it. Have a look at the rest of the bonus terms:

"Players staking more than 10% of their real money deposit in a single bet will be flagged as high-risk players and shall be monitored. The Casino reserves the right to void any winnings derived from such abusive behavior. Example: a player depositing €100, then immediately proceeds to wager over €20 per hand will be deemed high-risk user. High-risk players will not automatically be deemed advantage users, but will fall under a higher level of security and their game play will be monitored for changes in bet value."

"Any player who increases their starting balance by more than double will be prohibited from reducing their bet size by more than 50% for the remainder of the bonus wagering requirements. This will be calculated on the largest bet size made up until that point. If a player is deemed to have acted in this way, it will be considered abusive play and will result in the confiscation of any bonus and accrued winnings and the suspension of the player's account. For example if a player's starting balance was £100 and he/she has a win or series of wins that takes his/her balance above £200 while betting £10 per round, the player would subsequently have to complete the remaining bonus wagering requirement with bets of £5 per round or greater".

*These terms are as rude as a fox in a hen pen.
2. Noxwin Casino: Another reputable operator. The play-through attached to the bonus (35xb) is okay but it's the rest of the bonus terms that's got me shaking my head. We've awarded this term the CJB since the maximum amount that could be won from it is €3,000 and the max. amount from the free spins is €50. I can understand the maximum win attached to the free spins but not to the bonus. Talk about trying to drive square pegs into round holes.
Just a quick update regarding Noxwin Casino. The operator's affiliate manager, Hristo got back to me and said that management amended this term. As such we've removed the CJB and awarded the operator our quality badge:
"Hi Otto,

Thank you for contacting us ,and please let me take over this case.

Thank you for "awarding" us the black list casino badges, but lets review the reasons behind:

3000 EUR casino bonus winnings limit – I admit we used to have this rule before due to some bonus abuse problems which we faced in the past. We didn't have such problems recently however, and a couple of weeks ago one other affiliate site suggested that this term is not very user-friendly. This was a wake up call for us, and since 21.05.2015, this term is no longer part of our casino bonus requirements. So I suggest that you review your terms once again, because your information is a bit outdated.

50 EUR free spins winnings limit – Please note that this rule applies only to no deposit free spins which the players are awarded. Those free spins are not tied up to deposit and are awarded either for registration, or as additional bonus to previous player activity (when deposit money are already spent, and welcome/reload bonus is already used). We run such no deposit free spins campaigns heavily, and honestly I don't see how this hurts the player's since the free spins aren't tied up to a deposit, therefore they don't risk their own money for it in any way. Example from our current free spins promotion:

http://noxwin.com/promotions/twinspin15fs – free spins are awarded for registration (no deposit required for claiming them), indeed the 50 EUR rule is there (clearly stated in the terms, nothing is hidden from the players), and the users do not risk their own funds for receiving the free spins. In that case we consider that is fair to set some maximum winnings limit. On a later stage, if the players are happy with our product, they can make a deposit, and enjoy unlimited winnings with or without claiming the welcome casino bonus.

So I kindly ask you to review our case once again, and remove the blacklist badges Noxwin was awarded with.

Should you require more information – I am open for discussion.

Best regards,

Hristo"
3. ParadiseWin Casino: The sign on bonus of 150% up to €150 carries a very steep bonus wagering of 80 times the bonus. To illustrate my point here's an example: Let's assume you accept the bonus offer and you deposit €100. In addition to your €100, you'll receive a match bonus of 150% (€150), play with €250. Initially it looks like a great bonus incentive but it's not. Before you can cash out any winnings associated with the bonus you must turn over the deposit and the bonus sum 40 times (80xb). Therefore, €250×40=€10,000. No matter how appealing this bonus might seem I won't recommend it.
Update: Mark Coupland, affiliate manager got back to regarding the excessive play-through attached to the sign on bonus.
This is what he had to say:
"Hi Otto,

Unfortunately I'm not the one calling the shots. I had a chat with those who are in charge and unfortunately they will not make it any lower. People are winning a lot and if they will make it lower we can close the casino in a few months. Thank you for understanding."
Also, I'd like to point you to the discussion ('The Slow Death of The Online Casino Bonus') that's been going on at Casinomeister.com. Most players are of the opinion that the sign up bonus has become bogged down by excessive terms that devalues its intended purpose. You can read more about the death of the deposit bonus on this page.  
4. Hippozino Casino: The sign up bonus of 100% up to a maximum of $200 offered to new players carries a play-through of 50 times the bonus. This is relatively steep. We've awarded this term the court jester badge, the bonus offers in general are bogged down by unnecessary bonus terms that is not in the best interest of the player.
1.4 "The Deposit Bonuses cannot be withdrawn as cash and can only be used to play the Games. You may withdraw any winnings gained from the use of each Deposit Bonus only after you wagered at least 50 times the applicable Deposit Bonus Amount. Only 5% of bets placed on all versions of video poker and/or power video poker shall be counted toward wagering requirements for the Deposit Bonus; only 10% of bets placed on all versions of Baccarat, Blackjack, Roulette, and/or poker table games shall be counted toward wagering requirements for the Deposit Bonuses."
Low withdrawal Limit: Hippozino Casino's monthly withdrawal limit of 3,000 credits compares very poor to that of industry standards. Most operators offer a withdrawal limit of up to 10,000 credits plus per week. This term could best be described as rogue since it encourages players that managed large wins to play the cash they've won back the casino. This might not be the case but this is the way I see it.
"The maximum withdrawal amount per account is (i) $1,500 / €1,500 / £1,500 per week, and (ii) $3,000 / €3,000 / £3,000 per month, except in the case of progressive jackpot winnings."
5. EuroKing Casino: This online casino is licensed in Curacao under the laws of Netherlands Antilles. It's powered by various quality vendors and offers a mixed bag of games that range from 3D slots machines, table game variants, video poker, towering jackpots to a live casino. The operator has been awarded the court jester badge since one of its software providers is SkillOnNet and the play-through attached to its bonuses are very steep.
A few years ago the SkillOnNet software was caught out since it rigged its video poker games which favored the house predominantly.
"Hi [EU CASINO AFFILIATE MANAGER],

I'd start off quickly saying that time frame makes zero difference. Whether you were caught 5 years ago, 10 years ago or 50 years ago, your company were caught being dishonest. Once you've crossed that line it's done. Much like a crime you get caught for 20 years after the offence, you'll still face the punishment for it. It may also be useful to know that it was 2011 that came out – only 3 years ago.

Regarding session logs – your management never asked for them. They could have been provided at that time, but your management decided to do their own testing and instead came back with results that mathematically could only have been the results of two things; 1) fabrication or 2) a rapid fix put in place to pretend the previous results did not happen. Having re-tested immediately, the game delivered perfectly normal results on Monday morning."

"For example: if you receive €100 bonus on a €100 deposit, the combined total is €200. You must wager this amount at least 30 times (€6000) before requesting a withdrawal. If you receive €50 bonus on a €100 deposit (50% bonus) we ask you to wager the bonus amount of €50 at least 30 times (€1500) before requesting a withdrawal."
Conclusion
Steep play-through requirements attached to a bonus, low withdrawal limits and outrageous progressive terms are just some of the tricks online casinos use to solicit more cash out of you. The majority of the bonus offers are slots centric, they can only be used to play high-variance games like slots machines. They are unpredictable and psychologically enticing and not called the "crack cocaine" of internet gambling for nothing.

[addtoany]