Why Eugenie Bouchard Is The Most Bankable Tennis Star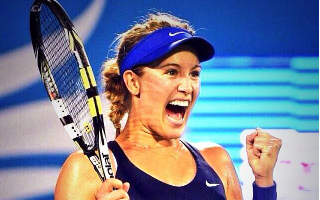 Please take note Serena, Eugenie Bouchard is the tennis world's most bankable star. One would think that the most marketable sports star would be someone like football sensation Neymar or irrepressible tennis champ Serena Williams.
Or what about charamastic sprinter Usain Bolt, Formula 1 champ Lewis Hamilton or soccer sensation Ronaldo? In their own right they are brilliant sportsmen but as strange as it may seem according to SportsPro magazine it's Eugenie Bouchard that steals the limelight.
Sorry, Eugenie who? Most people were rather mystified when the gorgeous Canadian tennis star recently topped the well-respected British publication's list of The World's 50 Most Marketable people in sport. Eugenie is the first female athlete to achieve this honor.
If you're not an avid tennis fan or don't follow the game you might not have heard of her before. At this stage she's ranked number twelve in the world and never won a Grand Slam. Industry experts say it's worthwhile keeping an eye on Bouchard affectionately known to her fans as Genie. At the tender age of 21 she's still tipped as being one of the great players of the future despite her lack of form of late.
Bouchard Is The Future Of Woman's Tennis
Not only is she a talented tennis player, she's also been blessed with model good looks making it impossible to ignore her. To tip the scales even more in her favour there's even a "Genie Army" that's traveling around the world with her. Pretty much like the "Barmy Army" in cricket. She has all the weapons in her arsenal to succeed Serena Williams and Maria Sharapova as the most commercially viable woman in sport. According to SportsPro many compared her with Anna Kournikova who kept tennis fans around the globe glued to their TV sets and seats-not always known for her tennis skills.
As it is Bouchard's record speaks for itself and way better than the former "Ice Maiden's". Earlier this year Bouchard thrashed Serena Williams 6-2, 6-1 in an exhibition match of the Hopman Cup. The previous year she was the runner-up at Wimbledon and progressed to the semi-finals of both the Australian and French Open. Due to her superb performance in both these slams her rankings improved from 31st place to number 5 in the world.
Her meteoric rise on the SportsPro list is also the reason why she's become one of the most marketable sports stars. In 2014 she was 13th but jumped to the number 1 spot, surpassing both Neymar (23) and Lewis Hamilton (30). I'd like to point out that the list is not solely based on her performance on the court. The survey took into account her age, charisma, cross over appeal, approachability and her incredible social media presence. Although she may not be an immediate threat to Serena Williams' number one spot but time is definitely on her side.
When she was 19 years old an Aussie commentator asked her about her dream date. She promptly replied, "Justin Bieber". Later she explained that she admired Bieber not only because he was a fellow Canadian but that he built up his career from nothing. She's romantically linked to newly-signed St-Louis Blues's Jordan Caron.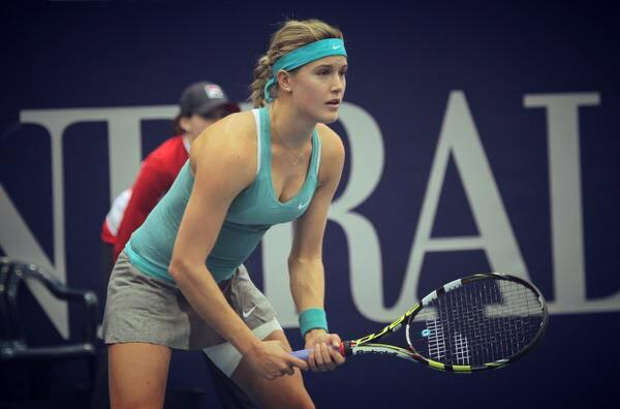 2015 Top 10 Most Marketable Sports Stars
Eugenie Bouchard
Neymar (Brazilian soccer player)
Jordan Spieth (U.S golfer)
Missy Franklin (U.S Olympic swimmer)
Lewis Hamilton (British Formula One Race)
Virat Kohli (Indian cricketer)
Stephen Curry (U.S basketball player)
Kei Nishikori (at 25 Japan's most successful tennis star)
Katarina Johnson-Thompson (Jamaican Olympic athlete also British heptathlon star)
Usain Bolt (Jamaican Olympic star-regarded as the fastest man ever)
A Slight Bump In The Road
Tennis pundits fear that all the fame not only affected her tennis but has gone to her head. After a string of crushing defeats Bouchard crashed out of the top ten, including first round exits at the French Open and Wimbledon this year. However, the lass is no stranger to pressure. Born in Montreal, Canada in 1994 she started playing tennis at the tender age of 5. By the time she was 9 years old she started competing in international tennis tournaments.
Bouchard said: Nine is very young to choose what you want to do with your life but that's more or less what I decided."
Her mother, Julie Leclair is a fan of the British Royals and named Eugenie and her twin sister Beatrice, after Prince Andrew and Sarah Ferguson's children. Their brother, William and younger sister Charlotte are also named after the royals. Bouchard and her twin sister took tennis lessons when they were six but Beatrice didn't have the aptitude nor talent for the game like her sister. She prefers to be a student and out of the public eye.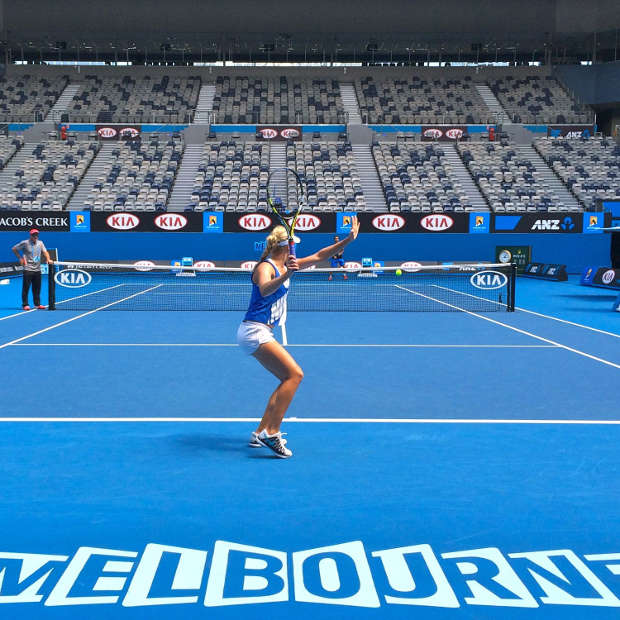 Natural Talent
Bouchard was barely a teen when she thrashed her older opponents. When she was 12 she and her mother moved to Florida in America, retired American tennis ace Nick Saviano took her under his wing. Nick and Bouchard parted ways last year, her new coach is Sam Smyuk who coached former number one Victoria Azarenka. Her father, an investment banker went into partnership with two investors bankrolled Bouchard's earlier career in exchange for ten percent of her earnings. Two years ago the court nullified this partnership, ruling that at the age of nine she was way to young to agree to forgo her future earnings.
Her career prize money currently stands at $4 million with sponsors queuing up to offer her lucrative deals. When Eugenie is not slogging it away on the tennis court she likes sharing snippets of her personal life on Twitter and Facebook with her followers. There's a picture of her with Kevin Hart, Will Ferrel and Justin Bieber. There's even a Genie photobomb with pope Francis in the background. She and Laura Robson also a former Junior Wimbledon champ created an Internet sensation with their version of Gangnam Style.
In 2014 Bouchard teamed up with marketing giant WME/IMG, the same company who also sponsors Serena Williams and Maria Sarapova. She also signed a modeling contract with its affiliate IMG Models and was photographed with super models such as Hannah Davis and Beyonce. Her good looks gets people often confused with Sharapova.
The magazine Elle Quebec made a huge blunder once when they inserted pictures of Sharapova on a Bouchard cover. In a recent interview Bouchard said that she "hates it and tired" of being confused with the Russian tennis star. She said that when she was still a lowly ranked player she took it as a compliment but things have changed a lot since then. She said she just wants to be "Genie" and nobody else.
Conclusion
Rihanna has her Navy and Justin Bieber has his Beliebers. But Eugenie Bouchard has her very own "Genie Army"-mostly students and young men whose passion for "tennis" knows no bounds. They recently started marketing their own merchandise and serenade her during matches. They turn up in T-shirts with slogans such as "Eat, sleep, Genie…repeat". I guess the sky is the limit for this girl.

[addtoany]