Cybergambling:Donald Trump For U.S President?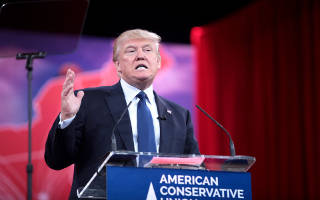 The coiffed, crass billionaire announced that he's standing for office and he wants to achieve the American dream.
In this article I'm going to explore the pros and cons and how it will impact internet gambling in the United States-assuming Trump gets elected. I really can't see this happening but one never knows.
In a recent press statement Trump said the following: "If I become the next president of the United States I'll build a "great wall" on the border to stop Mexicans from crossing over, I'll tax China until they behave properly and create so much employment that I become the greatest jobs president that God ever created."
This according to Trump will make America great again. From the above it's pretty evident that he intends on creating an Utopian society. Most folk see it as extremely presumptuous and discriminatory. As it is many journalists tried to keep a straight face as the property mogul and reality TV star announced that he was running as Republican candidate for the 2016 presidential election.
"Ladies and gentleman, I'm officially running for the president of the United States", he said triumphantly as he stood on the podium flanked by eight American flags in the atrium of his 68-storey Trump Tower in New York. The American dream is dead but if he gets elected he aims to make the country bigger, better and stronger than ever before. Many folk see his statement as a joke whilst some even regard it as some outrageous public stunt.
He said that if he's elected he'll appoint the talk show queen, Oprah Winfrey as his deputy. "I think Oprah will be great", she hasn't commented on this yet and unlikely to accept since she's not a Republican. In fact she's always been a staunch supporter of the Democrats. Being the person that he is, Trump never allowed minor details like this to stand in his way. He doesn't think it will put voters off despite that he has virtually no political experience. On the contrary he feels that it might stand him in good stead since most politicians are "morons" and "losers".
"People know that I'm all about business because they've seen me on my hit TV show, The Apprentice and on the big screen making cameo appearances in movies such as Home Alone 2:Lost in New York and Wall Steet:Money Never Sleeps." Trump is also the author of many books with titles like "Think Like A Billionaire" and "Have I Told You How Wealthy I Am? Reportedly he earns $3 million per episode for The Apprentice making him one of the highest paid TV personalities in America.
Famous Trump Quotes
On America's Education Budget

"People are tired of spending more money on education per capita than in any other country."

On TV Personality Rosie O'Donnell

"Sorry, Rosie is a mentally sick woman, a bully, a dummy and above all, a loser. Other than that she's just wonderful!"

On South Africa

"As I have long been saying, South Africa is a total-and very dangerous-mess. Just watch the evening news."

On President Barack Obama

"Sadly, because president Obama has done such a poor job as president, you won't see another black president for generations."
Trump claims that he's net worth is $9 billion and firmly believes that someone with his considerable wealth is the answer to America's financial woes. "I'm very good at business and I can make the country rich". He hinted that in 1988, 2000, 2004 and 2012 he aimed at running for president but always abandoned it at the eleventh hour.
He's prepared to put his money where his mouth is and will fork out $100 million on his own campaign. Even though he's been voted as one of the 10 most admired people in the U.S, in a 2011 poll, political pundits said that he has little hope of winning the Republican nomination. In a recent poll, 62 percent of Republican members said that they wouldn't want Trump as president-making him one of the most unpopular candidates in history. He's been criticized for hiring "supporters" at his campaign announcement and paid them $50 each to cheer and wave placards.
The public may love him but he's extremely unpopular within his own political party. Besides, he also faces stiff opposition from fellow Republican wanna be presidential campaign runners, Governor Chris Christie and Senator Marco Rubio. Christie is regarded by many as a "flip-flop" when it comes to the legalization of internet gambling. Rubio on the other hand backed by Sheldon Adelson vehemently opposes gambling over the internet.
Where Does It Leave Internet Gambling In The U.S If Trump's Elected?
"This has to happen because many other countries are doing it and like usual the U.S. is just missing out," he told Forbes. "It seems inevitable, but with this country you never know if it's inevitable."
Already three U.S states (Delaware, New jersey and Nevada) have regulated it. Trump makes no secret about it that he plans on conquering the Internet. This comment came on the back of Trump Entertainment Resorts disclosed in a securities filing that it aims to form a joint venture with his daughter Ivanka Trump and Avenue Capital Group. The $12 billion hedge fund firm is controlled by billionaire Marc Lasry.
Trump continued in the same vein: ''We have been looking at this for a while we have the hottest brand in the world according to many and we think we will do extremely well because of the Trump brand''.
According to a Trump Entertainment Resorts Securities & Exchange Commission filing, Trump and Lasry are still seeking an appropriate partner that has experience when it comes to operating an igaming business outside the United States where it's legal. In a closing statement Trump said that if properly regulated he firmly believes that online gambling can be a boon to the U.S economy:
"Both federal and state governments would benefit from increased tax revenues if online gaming was properly regulated. "The U.S. is missing out and New Jersey is missing out and everyone else is getting it".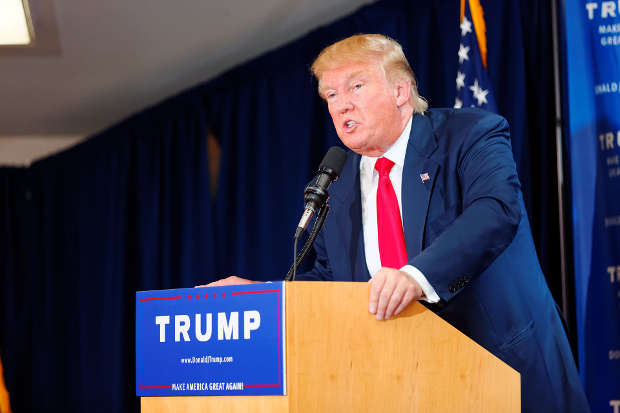 Key Notes Pros and Cons
Let's assume Trump gets elected in 2016. He'll regulate internet gambling across the United States. It will create additional jobs and help stimulate local state economies.
However, this is as far as it goes. On a personal note, I firmly believe he won't get elected since many folk regard him as a clown that's only out to further his own personal agenda.
Online gambling is a pressing concern and a hot topic now under debate in Congress. As it is the anti-gambling bills are backed by people, politicians, corporations and conglomerates divided by good intentions and self-serving motives.
Conclusion
Love him or loathe him, for the next few months there will be no escaping him. Trump seems to be drawing a lot of inspiration from the 80's. His campaign slogan:"Make America Great Again" is identical to the one Ronald Reagan used in 1980.
When he hit the campaign trail in New York it was his hair that drew the most attention. He even invited a woman on stage to touch his coif just to make sure it's 'real'. If he is elected as America's next U.S president it remains to be seen if he'll regulate internet gambling, hopefully and I quote, "he'll put his money where his mouth is."
Politicians may call their bills "Internet gambling Prohibition Acts". But the glaring reality and hypocrisy is that all forms of gambling operations such as Las Vegas, horse racing maneuver behind the political scenes. New players trying to legalize and insulate their own operations are finding it hard to compete against would-be competitors with more political clout and financial means.
Although no one has a crystal ball to predict the exact outcome of future legislation, it's pretty evident that such laws will favour the wealthy and influential. This is why Donald Trump might just be within a shot.
References
[addtoany]