New London Super Casino Attracts Thousands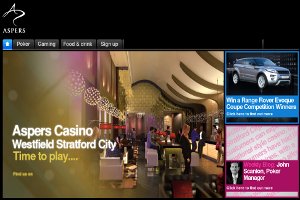 There's a new 'super casino' on the block and its name is Aspers Casino at Westfield Stratford City in London.
This new GBP1.8 billion land-based casino is hailed as London's new mega casino and its just a stone throw away from the Olympic Centre. Since its official opening on the 1 December Aspers smashed all previous UK attendance records.
Casino Trafficked By The Rich And Famous
This 65,000 sq ft new casino already welcomed 75,000 punters since it opened its doors for business two weeks ago. As a result of its mega attendance the casino will hire 30 more staff, presently it employs 470 staff and added an additional 10 tables for the Festive Season.

Richard Noble, Chief Operating Officer of the Aspers Group told Internet Casinos in a recent interview, "We're delighted with the level of attendance so far and the demand for our product in Straford. In essence we're providing our punters with a stylish and fashionable alternative to the traditional West End."

Located in the very heart of London Aspers Casino offers punters a wide assortment of quality casino games such as live games, slot games, video poker, and various table games that caters for your professional and novice punters alike. The casino boasts 40 Roulette wheels and Blackjack tables, 92 electronic gaming terminals, a 150-seat poker room, a sports bar with 60 betting terminals, and 150 slot machines. Punters can also try their luck at the new 'Sex and the City' Slots which is the first slot machine of its kind at the moment in the United Kingdom. The casino also has a first-class restaurant with a spectacular view over the Olympic Stadium. Noble said, "We call it entertainment betting rather than aiming at high-stakes professional betting."

Noble predicts that the new Aspers Casino will attract more than 4 million punters into the Westfield Shopping mall even more than the Newham area. The casino will contribute GBP1 million in annual fees to the Newham city council on top of the GBP5 million already paid. "We firmly believe that a 'super casino' such as Aspers will have a profound impact on the local economy and that it will pave the way for other 'super casinos' to follow suit throughout the UK", Noble concluded.

[addtoany]