World Cup Rugby: Vermeulen Says Bring It On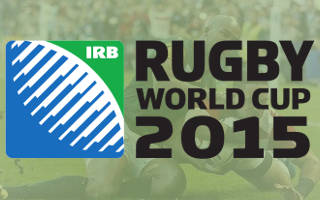 If there's one player that can make an impact on Saturday's World Cup Rugby clash against Samoa, it's Duane Vermeulen. If he's in the team it's a different Springbok team altogether.
Having sustained a serious neck injury it won't come as a surprise if Meyer replaces Vermeulen towards the latter end of the second half. Vermeulen said he itches to be on the park again and looks forward to a bruising encounter. He said that he's not afraid to play against one of the most physical teams in the tournament. "I'm ready, bring it on".
A Must Win Match
Saturday's match is the burly number eight's first test match this year, he hasn't played a single game since he injured his neck. Vermeulen is hailed by many as a strong leader who leads by example and brings a lot of physicality to the table. At a glance he looks in peak physical condition but the question everybody is asking, is he match fit? The Boks looked tired and rusty against the Japanese. To be honest I think they were a tad arrogant against them and believed that they've already won the match just by pitching. No other World Cup has been as open as this one, any of the top 6 ranked teams can win it.
Vermeulen said that he enjoys playing at the highest level but he's disappointed with the Boks' lack of discipline to date. Their discipline against Japan cost them dearly since they conceded way too many penalties. If the Boks want to win this year's Rugby World Cup they must improve their discipline. The previous World Cups proved that the teams who conceded the least penalties backed by a solid defense were World Cup winners, a shining example is the winning Springbok team of 2007.
The breakdown is another bone of contention. This is one area where the Japanese exploited the Boks and proved that they are vulnerable in this department. Meyer said they worked a lot on the breakdown since their defeat and hopefully the forwards will be sharper this time round. Saturday's test against Samoa will be Vermeulen's 30th test at number eight. Only two other number eights, Pierre Spies (48) and Gary Teichmann (42) played more tests. One thing is for sure the Boks won't underestimate the Samoans like they did Japan.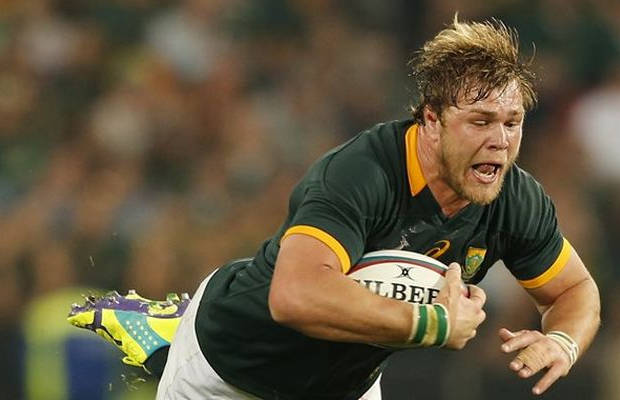 Photo: www.timeslive.co.za
Samoa Up For The Challenge
"It's going to be war, we're not planning on bringing our knives and pitchforks but we're going to do everything possible to win this match." Stephen Betham, Head Coach, Samoa
Betham named the 23-man squad that will start against the Boks and inlcuded the Sharks-centre Paul Perez in the starting lineup. Flyhalf TJ Ioane, hooker Motu Matu'u will play for the first time in the Rugby World Cup. Betham made three changes to team since their victory over the U.S. Stanly and Matu'u were on the bench against the U.S but replaced Tusi Pisi and Ole Avei. Ioane was not in last week's starting lineup, he replaces Mauri Fa'asavalu who sustained a calf injury.
"We expect South Africa to be our fiercest opponent in Group B"
The surprise element and their shock defeat against Japan is gone. Betham firmly believes that the Boks will come out firing on all cylinders especially within the first 15 minutes, "I expect a very physical game. If Samoa can't counter the Boks within this period it's going to be a very long day at the office. We know South Africa would like to prove a point. They have some of the best players in the world and it's just a matter of time before they click."
It all depends on how focused Samoa is on the day, how hungry we are and the brand of rugby we're going to play. Samoa's captain Census Johnson said that the Boks are going to be "angry" after their defeat against Japan. South Africa is a very proud rugby nation and would like to stake their claim on the World Cup early on, Betham reiterated.
Japan has shown us no favors and we always knew that the ultimate test in this year's Rugby World Cup is going to be against the Boks. The Pisi-brothers will make history against the Boks by being simultaneously on the field against them. Samoa's Vavae Tuilagi can also be one of five brothers to play in a world cup match. The other brothers Fred and Henry played for Samoa and Manu for England.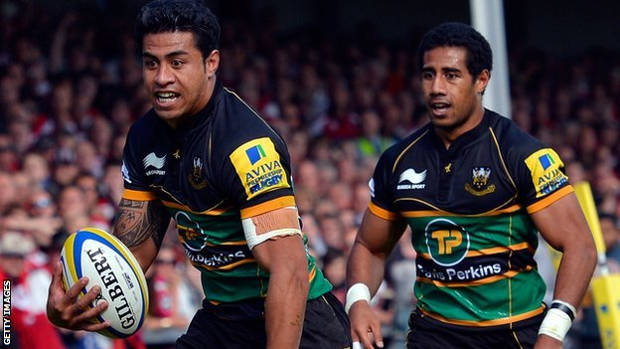 Photo: Getty Images
Can Willie Le Roux Make a Difference?
Le Roux said the last thing he wants to do now is to play a passive game of rugby. The 26-year old makes his first World Cup appearance on Saturday. He replaces fullback Zane Kirchner who had a shocker against Japan. It's pretty evident that Meyer wants to give the Boks' backline much needed woema on attack. Kircher played a very one-dimensional game and kicked away most of the team's possession. Le Roux said he's going to play an aggressive yet tactical game right from the onset. 
Coach Heyneke Meyer said although the Boks plan on playing an attacking brand of rugby, it must be done from within the right areas of the field. If they do kick the ball it must not be senseless kicking like the game against Japan. My plan is to rotate the players and to give them as much game time as possible. By the time we've reached the knock-out stages of the tournament every single player must have already been "blooded".
Conclusion
South Africa must forget about the loss against Japan and focus on each game from here on end. Every game must be treated like a final. My gut feeling tells me that the Boks will win this one against Samoa. However, it also depends if senior players like Fourie du Preez, Jean de Villiers, Schalk Burger and Victor Matfield bring their A-game. The Samoans are physically intimidating and like to run the ball from all corners of the field. Discipline and defense is going to be key for the Boks in Saturday's game.

[addtoany]