Winning Online Slots The Ultimate Guide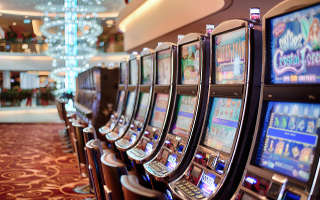 Many players often leave a brick-and-mortar or online casino disgruntled since they experienced a serious of losses. Before I share some of the tips that stood me in good stead over the years just keep in mind that there's no secret formula to winning at slots or any casino game for that matter.
Slots machines run on a programmed Random Number Generator (RNG) that determines the outcome of each spin in mili seconds. I'm going to discuss how to play slots next time you pay a visit to your local or online gambling.
1. Understand The Game
At first glance it may look simple but looks can be deceiving at times. This is the 'learning curve'. To be successful you must learn as much as possible about the slots machine you're about to play. Make sure you understand the game rules and payout tables. I like playing Gonzo's Quest and Jack and the Beanstalk, although they are not one of NetEnt's latest releases they're still one of the best slots around, for me at least. When I first started I made sure how much each game's winning combination pays out, the various symbols and when the bonus round is triggered.
I then opened an account at LeoVegas casino since the site received glowing reviews from numerous reputable portals. The operator offers a decent bonus package, 7-figure progressive jackpots, table, video poker games and comp points. However, the strength of its game selection lies in its NetEnt slots.
This software provider become an overnight sensation with players since its games are flushed with high-end graphics, entertaining and they're quite loose too. Right where was I? O, Gonzo Quest. I deposited $100 just to get the 'feel' of the game. I set my coin denomination to 0.8 Euros per spin and pressed the 'Spin Now' button. I won 20 Euros with my very first spin! Even Gonzo was impressed and did a little jig across the screen. What did I do next? I immediately banked 80 Euros and played with the remainder of my bankroll. Gonzo's Quest wasn't the only slots I played. I alternated between Jack Hammer 2, Jack and the Beanstalk and Aliens. I won 70 Euros after an hour of great entertainment, cashed out my winnings via Neteller and left.
2. Patience
As the old saying goes "patience is a virtue". Certain players get angry when they experience a loosing streak or if they haven't 'unlocked' the bonus round within a certain amount of spins. Does this fit into your playing profile? If it does, then you are not patient. One thing I can tell you that patience is not a skill and neither is it science. Skill and science can be learned but you must be born with the ability to be patient. To become good at a specific slots machine you must practice a lot and develop the art of patience.
How do you develop patience? First of all, you must accept the fact that you're going to experience some horrendous losses but you'll also experience some nice wins along the way.
When you experience extremes you must develop your ability to curb those extremes. Even if you don't win during a session, you might experience a win the following day when you have a clearer perspective. If you start losing, don't start berating yourself. If you forgot something, look it up and learn from the experience. Patience is the art of reacting to a specific situation without overreacting to it.
Don't play when you're emotional. You must be relaxed and rational.
3. Bankroll Management
This has been discussed to the point of exhaustion. Of all the key aspects on gambling, slots machine bankroll management is one of the most important. The reason is quite simple, without money you can't gamble. Gambling is all about money-losing and winning it. What exactly is a bankroll? This is the amount of cash you designated as your gambling money-this money is expendable. This doesn't mean you should treat it as already lost or recklessly for that matter.
Don't set your gambling money aside with the conviction that it is already lost. This a defeatist attitude. Why? You already convinced yourself that you're going to lose and secondly you'll gamble recklessly with it. Your bankroll is your lifeline. You must treat it with respect. When it comes to your bankroll don't do the following:
Play the biggest and most expensive games by placing bets between $1 and $10, or even higher. It's like bungy jumping without the cord.
Your money must be unencumbered. What does this mean? You must not be afraid to lose it and under no circumstance borrow money from your credit card. At the end of the day borrowed money needs to be paid back, and probably could result in added stress to you or your family. This is not the way you want to start your bankroll. Always start with money that you can afford to lose.
Your bankroll must be determined by the types of slots you want to play. It's pointless playing progressive games that are extremely volatile and require huge bets per spin. Your bankroll will be depleted in no time.
Your bankroll must have a "slush" factor. In other words it must be able to withstand on-the-spot decisions. If you see another game you like and haven't heard of it before and you decide to play it. Your bankroll must be adaptable.
4. Choice
When playing slots machines online this is the part where "skill" comes into play. Many players are of the opinion that winning is based purely on luck. This is not the case, or to think that casino games require no skill. By skill I mean your ability to pick the right games, size of your coin denomination, payout hierarchy selection and the time you spent playing a game. As you can see playing slots online requires a holistic approach. Once you selected a game you want to play, make ten spins, if you don't win anything move on to the next game. However, this also depends on the size of your bankroll.
5. Discipline
Of all the keys to winning, this is the hardest part. Everything in cyberspace is created to separate us from reality. Your cash is the lifeblood of all this excitement. If you slot in discipline as part of your winning objectives you'll leave a winning player more often than not. Don't let the flashing lights of the games curb your sense of discipline. Always remember that discipline is the glue that holds it all together. Once the glue stops holding, it all comes apart very quickly.
Conclusion
Cyber casinos can offer slot games where they make less than one percent profit. In most cases they will get this all the time, be it in the short or long term. Paybacks at online casinos can be very aggressive especially if you play slot games. Before you sign up with an operator make sure you have a win goal strategy. What does it entail? All the points I've just mentioned: Understand the game, Patience, Bankroll Management, Choice and Discipline. Stick to these points, not only will you become a better player but a responsible player as well.

[addtoany]