Ultimate Guide To Online Gambling: What The Experts Say?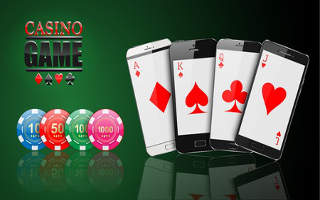 The last few weeks we have been blessed with some incredible interviews. In this article I'm going to add some of the pressing questions I've asked the industry experts I've interviewed. I consider them experts since they run and operate some of the most successful portal casinos in the igaming business.
Great Answers To Pressing Industry Questions
1. Jeremy, Casinolistings.com
This portal casino needs little introduction. It has been online since 2006 since then it has become one of the major players within our industry. Casinolistings covers anything from the latest gambling news, in-depth casino and game reviews, forum, plus it features a jackpot graph that provides an in-depth tracking service that's paid out $1.3 billion since 2009. I've asked Jeremy some hard-pressing questions which he answered like a majestic schooner sailing on the seven seas.
Otto: "Many players often question the integrity of the software used by operators. Is 'rigging' on the rise due to increased competition among cyber gaming casinos? What are the tell-tale signs that a game could be rigged?"
Jeremey: No. Most of the complaints about rigged software are normally from disgruntled players who lost. I believe that most of the operators are above board today and to throw a game just for the sake of gaining a couple of pennies in the short term might be very costly in the long run. Simply put, no operator will stake its reputation if it is serious about its business.
"It's human nature, players will stop playing at an operator if they continue to lose-the top operators know this, this is why they allow their players to win significant cash amounts from time to time. Online casinos that have a proven track record and a large player base don't need to cheat, the casino games already have a built in house edge."
Over the years we did come across software and games that have been rigged but cases like these are far and few in between. Companies that normally rig their games are small-time players without a significant market presence. It's also difficult to ascertain whether or not a game is rigged. One company that rigged its slots games was TopGame. It removed the wild symbols from some of the reels on its games. Tampering with the house edge of video poker can be proven but it takes a lot of time and money to reach a statistical analysis.
"Mathematical experts like Michael Shackleford and Eliot Jacobson proved that operators do rig some of their games from time to time. If you suspect that a game is rigged: keep detailed notes of every hand played, the cards drawn, bet amounts etc."
Once you've compiled enough evidence, contact an expert before you start slating the company who rigged its software on a public forum. Then again some online casinos are smart, if they suspect that the player is on the verge of catching them out they simply disable the cheating mechanism.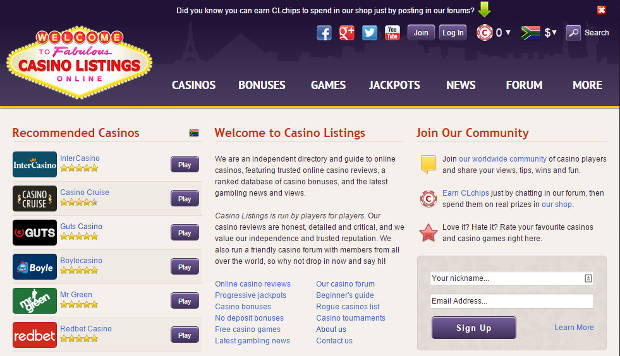 Otto: "Do internet gaming sites offer better player protection than their land-based counterparts?"
Jeremy: A resounding yes. People who've gambled online know that online casinos impose the maximum security protocols by requesting certain ID requirements. The reason for this is simple:to prevent fraud and underage gambling. Even operators with shoddy reputations do this to protect themselves. Casinos that are licensed in reputable jurisdictions (Alderney, Gibraltar, Isle of Man, Malta and the UK) allow players the following: set daily or monthly deposit limits, wager limits, loss limits, self-exclusion and session time limits.
I might be wrong but I don't know of any land-based casino that offers its customers this kind of protection. Can you picture the staff at a land casino walking up to you and telling you, sorry sir your 2 hour limit is over, please leave the casino immediately? From a safety perspective online gambling is a country mile ahead of brick-and-mortar casinos. You can read Jeremy's interview on this page.
Otto: "Would you say that gambling is a mug's game, please substantiate your answer please?"
Jeremy: I have to say yes and no-please hear me out. My partner and I are self-confessed bonus hunters, we did very well for ourselves a few years ago and reinvested the cash we've made from gambling into Casinolistings. To answer your question; I don't see gambling as a mug's game since it's very profitable. A mug to me is a person who has unrealistic expectations, someone who thinks they can beat the game with a system for example, or who lack discipline and chases losses beyond their budget. If someone wants to sell a "tried-and-tested" gambling system (Martingale) on our forum we do our best to dispel that person as quickly as possible. 
Sadly, the bonus offers are not near as good as yesteryear since the majority of the online casinos nowadays are out to "milk" the player. Plus the bonus terms are riddled with all kinds of "stuff you" clauses. However, savvy players will always exploit some weakness in the system but the operators are catching up fast by plugging all the gaps.
2. Femke Stigter, Netentcasinos.com: Is a one-stop site that offers its visitors the very best NetEnt casinos, game reviews and news by the Swedish software developer Net Entertainment.
Otto:"What were the biggest challenges Netentcasinos.com faced when it first started out?"
Femke: When I first started out my main aim was to get my website to feature in the top positions in the serps (search engine results pages) as quickly as possible. Through dedication and hard work I can honestly say that I've accomplished this. Initially I was a bit cautious since I did not want to overdo things within a short period of time. It's better to start off slow than falling back again halfway during the process. This is why I place such a huge emphasis on writing quality articles that appeals to my audience.
"It's essential that one creates a relaxed atmosphere for the player and not trying to siphon him or her off to the casino as quickly as possible by a myriad of banner advertisements. This is why Netentcasinos.com offers a comprehensive list of NetEnt casinos and does away with all forms of banner advertising. A key aspect that most webmasters tend to forget is to add a personal touch. If you visit Netentcasinos you'll note that a picture of me features on every page. Not only does it resonate well with our customers but they keep on returning to our site."
Otto: "Do you think gambling over the internet is properly regulated? If not which mechanisms do your propose to regulate it properly?
Femke: It's hard to believe that only a decade ago most European governments tried to ban 'illegal' iGaming. If one takes in account how regulation progressed the last few years I can definitely say that it's on the right track. More and more governments in different geographic regions are seeing the monetary potential of regulated igaming.
iGaming is here to stay and it cannot be 'banished'. My motto:"If you can't beat them you might as well join them". It still doesn't make sense to me why governments would rather protect national state gaming monopolies if they can attract reputable internet casinos with tax benefits? The only way forward, in my opinion at least, is to introduce a national license system. Not only will it protect players but create additional tax revenues too.
Regulation still has a long way to go. Players don't always have the best choice of online casinos plus operators must fork out exorbitant license fees and taxes. If governments can offer operators a reduced license fee and a lower tax rate, it will create a win-win situation for all parties involved. Read her interview here.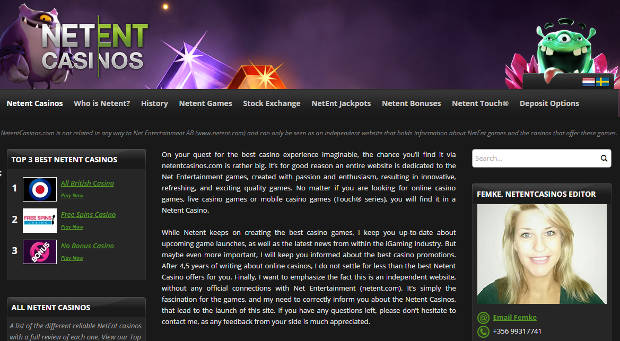 3. Richard Whitehouse, thegoodgamblingguide.com: This site is packed with highly authoritative articles on how to beat the casinos, general game guides and the latest gambling news from across the globe.
Otto: "Do you think that the UK market has become saturated and that the UK has become a nation of gamblers?"
Richard: Since the 1960 Gaming Act I firmly believe that the UK has been ahead of the game when it comes the regulation of internet gambling. I believe that each citizen has the right to spend their money as they please. Since the National Lottery came in to play and the 2005 Gambling Act, gambling is now a regular part of everyday life in the UK and free for all. Older people still see gambling as a bad thing but it's completely the opposite for the younger generation. The downside of regulated gambling is that it creates a lot of problem gamblers, that's why it's essential one must educate people about the pitfalls of excessive gambling.
"Due to the actions of the government, the UK has created a problem. Its once draconian laws have become relaxed to such an extent that allowed a "free-for-all" policy for operators which targets the vulnerable people. I must admit that they are doing a good job in this department. I don't think that the UK market is saturated, if one takes supply and demand into account, the market will eventually sort itself out. The smart player knows what to look for since most operators over extend their promotional offers in an attempt to get more customers through their virtual doors."
Otto: "What's your take on the sign up bonus (SUB) online casinos offer to new players?''
Richard: The deposit bonus is not the incentive to new players it once was reason being it's more likely to create a negative expectation to the player which is greater than the bonus. If you intend on playing games like roulette the extra money can go a long way on condition small bets are made. 
4. Zoltan Tundik, Head of Marketing and Sales at Eegaming.org: His site focuses on the Eastern European market a market that's still relatively untapped and holds enormous potential. Let's hear what Zoltan has to say.
Otto: "Tell us a bit more about the Eastern and Central European markets in terms of player retention, licensing and revenue?"
Zoltan: This market is still pretty much unexplored, so far few operators have set up shop here. I guess this could be ascribed to the fact that it's not properly regulated yet. But the political climate is changing and I might add for the better. Player retention in the Eastern European market is better than its Western and Central European counterparts since the average mean income per capita is not as high. Players are more loyal towards the brands they sign up with.
"Any licensed operator that decides to venture into the egaming market of Eastern or Central Europe stands a really good change of making it big. However, in order to become successful it's important that one brings in a team that knows this market, use a quality software that detects fraud attempts for bonuses or fake accounts. This region is notoriously known for its bonus hunters. This is why one must employ a vendor where the gaming realism is top-notch and offers quality service."
The good news is that more and operators are realizing the revenue potential of this market. How so? Well, to begin with the licenses are pretty cheap and the pros of setting up business in this region far outweighs the cons.
Otto: "You've accomplished a lot with your site in a very short period of time. Care to share some of your "secrets" and what advice would you give to new affiliates?"
Zoltan: Although SEO (Search Engine Optimization) begins and ends with Google. Most webmasters still underestimate the importance of Social Media. At this stage Google does not place a huge emphasis on social media but I think it's going to change-in future sites that have a strong social media presence can expect a ranking boost.
Otto: "Why Social Media Is Important To Affiliates?
Zoltan: Engagement is key as such affiliates stand a better chance of attracting quality players. The retention rate is better. Social players who engage on this platform are constantly searching for quality promotional offers and they are more savvy than the average player.
The upside is Google sticks to its quality guidelines when ranking a website. In other words it does not have any form of favoritism whether a business is a multi-million dollar corporation or if it's a small affiliate website. My experience has taught me one thing: the small guy can compete with big brands if you employ the right SEO strategy by adding quality content, offer a transparent service and involvement.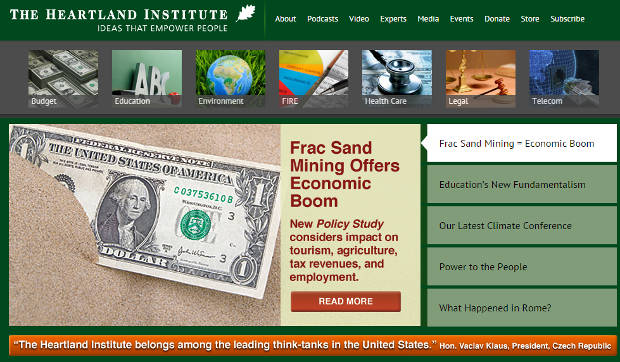 5. Jesse Hathaway, research fellow with The Heartland Institutes of Taxes and the Economy in the United States: He works with free market-oriented experts to discuss the good and bad of national, state and local government policies.
Otto: "Do you think that if RAWA (Restitution of America's Wire Act) is applied to internet gambling it will create a black market for U.S players?"
Jesse: Yes. If the Restoration of America's Wire Act (RAWA) is passed it will definitely create a black market for online gambling. Since the Internet is a global entity it is virtually impossible to enforce. Especially when operators' physical servers are located offshore and they operate outside the ambit of American law.
Otto: "Did the UIGEA (Unlawful Internet Gambling Enforcement Act) have a negative impact on legalized gaming in the United States?"
Jesse: Strictly speaking the UIGEA forces U.S players to play on foreign servers. The reality is that it handicaps states from serving their citizens in case a player dispute arises with the gaming company. More often than not foreign-based operators don't always have the player's best interest at heart and the U.S player is left at the mercy of the laws of a foreign nation, instead of federal state laws.
"The purpose of the UIGEA was to compel financial institutions to stop processing credit card transactions as a means to place a bet online. U.S players are smart and now use prepaid cards to deposit and play online. They simply go to their local 7-Eleven, purchase a prepaid card that's worth $200. The crux of the matter is this is untraceable and the U.S government and the states are losing out on much needed revenue which could have boosted their economies."
To answer your question yes. The UIGEA had a negative impact on regulated cybergambling in the United States. Instead of stopping it, it has just driven it underground at the behest of the American player.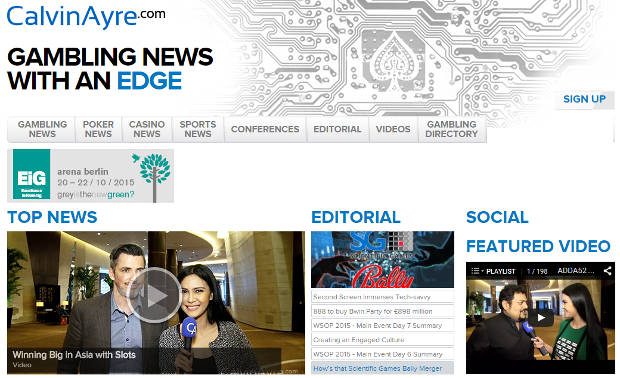 6. Rebecca Liggerio, Calvin Ayre lead-on site reporter: I worked with just about every iGaming affiliate program in existence and traveled the globe attending iGaming conferences. I met Calvin Ayre at ICE 2006 and he mad me a job offer I couldn't refuse and in 2009 I joined CalvinAyre.com.
Otto: "Without a doubt you're one of the most vibrant people I've interviewed to date. Tell us a bit about CalvinAyre.com and its role in the igaming industry?"
Becky: CalvinAyre.com provides daily news stories, video coverage of all the major conferences, industry events and poker tournaments. The company interviews numerous celebrities within our industry and at the same time we're also try to have some fun. In short CalvinAyre is your one-stop shop when it comes to anything gambling related be it news, opinions, entertainment and information.
I've learned a lot from Calvin over the years in terms of guidance and industry issues. The vibe in the CalvinAyre.com office is "work hard and play hard". Working in the media world is as unpredictable as the weather not one day is the same, I guess this is why I enjoy my job so much.
Otto: "Do you think online casinos licensed in reputable jurisdictions such as Alderney, Gibraltar and The Isle of Man have a positive impact on their economies?"
Becky: Jurisdictions like Alderney, Isle of Man, Gibraltar, Malta, Antigua, etc, could best be described as the "policemen" of our industry since they keep it clean and above board. They are involved, they send representatives to speak at conferences, they have their own booths and they work hard to provide support to their licensees.
"The tax generated from licensed operators plays a significant part since it boosts their economies. It's also important to point out that they help create employment and aids local infrastructure."
Jesse Eddleman, is the owner of Potentialeight.com: He writes various authoritative articles on gambling over the Internet that covers online casino, bingo, poker and sports betting sites. He specialized in short-handed fixed-limit hold'em until the UIGEA was passed in late 2006.
Otto: "Has internet gambling regulation been a success in the U.S to date?"
7. Jesse Eddleman: With a total population of 3 million people New Jersey is a shining example of how online gambling should be regulated within a state. Initially people experienced a lot of problems with processors since they were denied payments. Also, one of the biggest issues was the unrealistic projection that was made for revenues for online gambling but it's picking up and way better than it first started out.
"Despite some of the hiccups regulation in New Jersey has been a success. More players are signing up everyday. When it comes to the other states following New Jersey's example it's not that simple. Reason being, many states don't have established casino brands or licensing boards that foreign operators could partner with."
A lot of people in the industry, myself included, thought 2014 was going to be the year that a lot more states started to regulate online gambling after following the lead of New Jersey, Delaware and Nevada. Sadly, it didn't work out like that even though a whole lot of states had legislation looked at for the regulation of the industry. The state-regulated model is solid and in line with US law, but getting all of the individual states on board means that players will have to wait longer to get games in their respective states.
Otto: "Which framework do you propose to regulate online gambling properly?"
Jesse Eddleman: From what I understand is that every country, state or province has its own share of problems when it comes to regulated igaming. The biggest problem normally stems from lawmakers writing the law in such a way that it's not in tune with the reality of the online gambling world.
To give you a good example. Canada has banned internet gambling at federal level but allow the provinces to offer their own games. In turn, most provinces (Alberta and Saskatchewan excluded) offer some sort of online gambling portal. The problem is that the provinces aren't allowed to offer online casinos licenses since they can't compete with companies who have the monopoly. The market share for the provincially-operated games in a place like British Columbia is as high as 25 percent.
The only type of online gambling the federal government in Canada bans is sports betting. This really came to a head when the Canadian Gaming Association (CGA) completely ripped their legislature a new one because of all of the illegal bets that were made on the Super Bowl. In short, the governments could have profited from it without this ludicrous rule.
Otto: "Can you explain to us in detail how the wagering requirement attached to a sign up bonus is calculated?"
Jesse Eddleman: If you look at the payout rates of the various games from a wider lens, slots machines have a higher house advantage than table games. Any player can find the perfect strategy to play blackjack and video poker. If you are a skilled player with the correct strategy, you can win a substantial amount just by playing these games because the house edge is less than one percent. Some blackjack and video poker games' house edge is lower than one-quarter of a percent.
I can understand why operators offer bonuses that favor slots players instead of table players. This extends to both the size of the bonus offers and the level of the play-through requirements. The reason why the casinos impose a play-through requirement is to protect them from players abusing their bonuses. If you have a 100 percent match on a $75 deposit with a 20x play-through requirement that's on the deposit and bonus, then your total requirement would be 20 * $150 = $3,000. Before you can cash out your winnings you must turn over a total of $3,000. This rule only applies if you played slots machines since they have a weighting of 100%.
Once you've completed the play-through some bonuses can be cashed out along with your winnings. These are called cashable deals. They are more advantageous over non-cashable bonuses since they turn into cash once the bonus wagering is completed. When you withdraw your winnings non-cashable deals are deducted from your account.
Otto:" Would you say that the current internet poker market in the U.S is "player-friendly?"
Jesse: No, it's not. U.S-based players thinking of playing professional poker will find it difficult to earn a living; there aren't that many large sites with decent player bases at the moment. As it is, the sites that do offer poker only have 500 to 5,000 players online at any given time. Loyal players aren't offered many incentives (rakeback) and multi-tabling selection is limited. To compound matters further, the rake is significantly higher at microstakes games.
When it comes to regulation, states like New Jersey, Delaware and Nevada are the only U.S states that regulated poker over the Internet. If poker has a remote chance, Delaware and Nevada must come to some form of agreement and pool their respective resources. Even though poker is legalised in these states, they have small populations if compared to California (38 million residents). Until more states regulate it on a large scale, the future of online poker is getting dire by the day.
8. André Wilsenach, Executive Director of the Alderney Gambling Control Commission (AGCC): Mr Wilsenach is a member of the Steering Committee of the International Association of Gaming Regulators and a member of the International Masters of Gaming Law.
Otto: "Can you tell us why Alderney is such a popular destination for licensed online casinos?"
Andre: As a jurisdiction for licensed egambling operators Alderney is popular for various reasons. It's one of the largest hubs for B2B services and currently transmits high volumes of internet eGambling traffic.
Why Alderney Is A Popular Jurisdiction

It's part of a group of islands called the Bailiwick of Guernsey the largest island in the Bailiwick. It's unfrastruscture supports a bustling financial market further augmented by secure telecoms links which gives it an edge over its competitors.
Businesses regulated by the AGCC can operate from Guernsey or Alderney. In turn they benefit from a common tax regime of zero corporation tax, low property taxes, no VAT, no capital gains tax etc.
It's has a highly skilled workforce making it an attractive place to live and work and has a solid reputation in the international eGambling community.
The AGCC's main objective is to create a highly-reputable regulatory environment that meets world-class standards laying the foundation for world-class operators to operate from. At this point in time there are 2000 licensed operators owned by 350 businesses operating in regulated any meaningful way.
The AGCC positioned itself to attract a relatively small number of operators who seek a comprehensive and favourable climate to operate in. In the longer term, the quality companies are likely to dominate the world-wide internet gambling business.
Otto: "Money laundering is a problem in our industry. How does the AGCC clamp down on it?"
Andre: The AGCC's takes its lead from the Financial Action Task Force (FATF) which operates within the ambit of global standards. As such it identifies businesses where the risks of money laundering and terrorist financing could pose a problem. Licensed operators agree that all aspects of their operations relating to AML/CFT controls will be scrutinized and regular on-site inspections will be undertaken by the AGCC.
''Money laundering and terrorism financing are serious international issues and it is important that such criminal activities are identified and prevented by all available means. Unfortunately, it has been identified that the gaming industry – including online gaming – may be a vehicle for those who wish to commit crime, conceal the profits of their crime or fund terrorist activity. The online gaming industry therefore has a duty to work to detect and prevent money laundering and the financing of terrorism wherever possible."
The Effects Of Money Laundering On The iGaming Industry
The fight against money laundering and the financing of terrorism affects all parties involved. Licensees must comply with the various laws, ordinances and regulations that have been adopted in the fight against money laundering and the financing of terrorism.
Prospective e-gambling operators must be aware that the registration process is an arduous process before a license is awarded. Operators will be requested to provide additional information about themselves. Key areas that deal specifically with the wider banking and financial services sector.
Regrettably, the nature of the eGambling industry is that it poses a great risks by virtue of the amount of money involved, the speed of transactions and the levels of turnover. This weakness is identified by the Committee of Experts on the Evaluation of Anti-Money Laundering Measures and the Financing of Terrorism (Moneyval).
A further risk of the sector is that transactions are not face to face. However, one of its strengths is that the audit trail left by eGambling transactions are relatively easy to follow and to investigate.
9. Heather Gartland is joint-owner of the TopbossGroup.com: She was the senior credit manager for a reputable bank in South Africa for many years before she joined the online gambling industry.

Otto: "Has the industry changed a lot during the past decade and would you say it is transparent from a player and affiliate point of view?
Heather: Our industry has seen a lot of changes but the core principles still remain the same. When we first started out 15 years ago there were only a handful of online casinos powered by the likes of Microgaming, RTG and Playtech. The competition wasn't as fierce as it is today, it was pretty easy to rank your site and to start making money. Google's guidelines were clear-cut. If you abide by its rules you could get your pages onto the first page relatively quickly.
With Google's Panda and Penguin the SEO landscape changed forever. Today it's extremely difficult to stay ahead since you got extreme competition on the one hand and Google on the other. However, I do believe Google has made it easier for the smaller webmaster to compete providing you consistently add decent content.
I'd say that the industry is better regulated from a player point of view than it was five years ago. The casinos offer more games and exclusive offers. Casino affiliates are worse off because competition is very high. We're not only competing against each other but against Google which is on the warpath against thin affiliate sites with spammy content-to compound matters further negative SEO is a reality too. On a scale of 1 to 10 I'd give it a 4. Player and affiliate shaving is still rife among many of the casinos since the operators only let us see a watered-down version of their stats.
Otto: "What's your take on the South African market at the moment?"
"We have been waiting for online gambling in South Africa to be legalized for years and each time a new bill gets to Parliament it has to go back to the drawing board for one reason or another. Currently we believe there is a further bill being presented to parliament, early 2015 , but the Anti-Gambling lobbyists are making a lot of noise, as they always do when there is a bill on the table."
Heather: The sooner the South African government regulates internet gambling the better. If it's not regulated within the foreseeable future South Africa will remain in the dark ages. My initial research indicates that the pros far outweigh the cons. The Government can do with additional revenue since unemployment is at an all-time high in SA.
10. Kristy Arnett, professional poker player: She grew up in Kalamazoo, Michigan, she started playing poker in college and loved the competitive aspect of it. 
Otto: "What's the difference between male and female poker players and what advice would you give to new players?"
Kristy: If one takes the numbers into account I'd say that poker as a game is still pretty much dominated by men but more and more woman are taking a liking to it. There's no discernible difference between male and female poker players in terms of their cognitive abilities. Both sexes face the same obstacles.
In my experience a woman gets "hit on" more often than a man does at a table. As a female player if you're not on top of your game this can be distracting. To be a successful poker player you must have the right temperament, sound poker knowledge, experience, discipline and commitment.
If you're new to the game, play against poker players who are better than you which mirror your strengths and weaknesses. One of the main reasons why most poker players fail is because they have an ego. To be a good player you must look at what's not working instead of justifying poor play. The most successful players analyze their game such as their strength and weakness and work tirelessly to improve.
Otto:"Which celebrities are your role models and what's the lasting impression they made upon you?"
Kristy: I have to go with Daniel Negreanu. He knew who I was since he read the articles I wrote at Card Player. I was a bit star struck and could barely utter a word when I met him the first time. He's one of the most sincere, friendly, genuine and encouraging human beings I've ever met and has always supported me throughout my career.
Daniel is not one to mince his words since he stands up for what he believes, outspoken and very considerate towards others. He's also a great humanitarian who's raised $350,000 for St. Jude Children's Research Hospital. This is the kind of person I want to be. Another person whom I admire is Andrew "Balugawhale" Seidman. Not only is he my poker mentor but completely transformed my game. It all starts with: "Why? Why are you betting? Why did you fold?"
11. Dr Rachel Volberg, Principal Investigator SEIGMA (Social and Economic Impacts of Gambling Massachusetts): Dr. Volberg is the first investigator to receive funding from the (U.S.) National Institutes of Health to study the prevalence of problem gambling. Since 1985 she has been involved in epidemiological research on gambling.
Otto: "What's the socio-economic impact of gambling on society as a whole?"
Dr Volberg: It's challenging to describe the impact of gambling on society as a whole since it depends on various factors such as the type of gambling, the environment into which it is introduced and when it occurs. Impacts depend on whether patrons are local or from outside a region and on the strength of policies to mitigate negative effects. Also, the social and economic impacts of gambling tends to change over time.
Dr Rob Williams wrote an interesting piece that summarizes the social and economic impacts of gambling. In it he highlights key impacts such as increases in government revenue, public services, regulatory costs, infrastructure value and infrastructure costs, and problem gambling and its related indices. The way I see it is that the impact gambling has is not as bad as opponents argue. From a research perspective few governments keep track of the negative aspects of it so that harms can be minimized and mitigated. This is exactly what we're doing in Massachusetts at the moment.
Otto: "As an expert in your field how would you curtail the effect of problem gambling?"
Dr Volberg: Let me be clear that it's not the responsibility of the casinos or other gambling operators to minimize and mitigate the effects off problem gambling or to prevent underage gambling. It's up to policymakers, regulators, operators, health care professionals, gamblers and their families to come up with a lasting solution to curb it.
What are the proper mechanisms? It includes a holistic approach that encompasses education and prevention directed at non-gamblers and those who do relatively little gambling. Extensive research must be carried out on gamblers who experienced harm all the way through to the provision of counseling and other helping services.
It's best not to "pigeonhole" problem gambling on a numerical scale since it affects individuals differently based on their circumstances. Based on a comprehensive study of problem gambling; the highest rates occur in Asia while the lowest rates are found in European countries of Denmark, the Netherlands and Germany. One cannot say for certain as to why Asian countries have higher rates of problem gambling than Western countries. It could be ascribed to the fact that attitudes toward luck and fate play a pivotal role.
12. Dr Lia Nower, Director of Gambling Studies, Rutgers University: Her research focuses on the psychometric measurement, the etiology and treatment of behavioral conditions and gambling-related policy issues.
Otto: "Over the last decade gambling at land-based casino and online has taken a moral seismic shift. In your expert opinion what has changed and what encourages people to gamble?"
Professor Nower: It's difficult to pin-point with accuracy in which country gambling is growing the fastest because some countries are in the process of regulating it while others have just ventured into this market. The way I see it:
"Gambling has the same appeal as a romantic relationship with an emotionally unavailable partner: A few intermittent wins followed by long periods where you're pushing buttons and not getting a response. All the while you're waiting for the big payout and the longer you wait, the more invested you become."
The difference between gambling and relationships is that it's dependent on randomness; patterns and prior experience is irrelvant. Successful treatment involves helping gamblers understand that the uncontrollable is entirely dependent on chance. One must help them to understand the underlying issues that make it so important for them to feel like a "winner" by replacing the "winning feeling" with something more productive.
Otto: "In the United States where do you see internet gambling ten years from now?"
Professor Nower: The major markets ten years from now will be electronic. I won't be surprised if the majority of states would follow the example of New Jersey, Delaware and Nevada by building a "Powerball"-type system for Internet gambling. How would they go about it?
A state like California could team up with New Jersey to use its current infrastructure at a relatively cheap rate. New Jersey will receive a percentage of the revenue of player losses and California would avoid most of the start-up costs and regulatory nightmare setting up new technology. Fantasy sports dailies transformed seasonal sports into a hybrid form of gambling, assuming New Jersey manages to offer internet sports betting. Other variants of gambling and social games makes a lot of money. However, all these forms of gambling is still pretty much a grey area.
13. Victor Royer also known as "Vegas Vic": He is a professional writer and gambler from Las Vegas, Nevada that's semi-retired. He has written numerous articles and 42 books on gambling.
Otto: "Do you believe that the "House Always Wins" and that certain games carry a higher house edge than others?"
Vegas Vic: It's an old saying that the "house always wins" but it's not always the case. Believe it or not that 90% of all the people who come to a casino actually win. If you insert $100 into a slots machine, you win $20 and cash out your $120, the return on your money is 20%. Had this been the stock market every Tom, Dick and Sally would be buying shares like it's going out of fashion.
In the casino this value is deemed relative. The $20 you've just won is not seen as a 20% return on your money. You could say it's just a drop in the ocean. The reason why people visit casinos is to enjoy themselves and hopefully win some cash along the way. This is why a $20 win isn't really considered a "win" per se. As it is the "profit" goes straight right back to the casino be it on the table games, to the Bar or the Show. At the end of the day less than 1% of all casino players actually win. Why?
Two Reasons:
They never go home with the cash they've won. They have fun and won't stop until all the money is lost. They go home to fetch more money, gamble again, lose it all again and only then they'll go home. Strictly speaking they are your recreational gamblers who only gamble to have fun.
Two, every casino game aside from live poker has a high house percentage. What does it mean? The mathematics of the game always favors the house be it in the short or long term. Therefore, if a player wins a lot and calls it quits, the mathematics of the game makes provision for it. Long story short "the house always wins" is true but it's relatively speaking of course.
Otto: "What's the biggest mistake gamblers make and what advice would you give to them?"
Vegas Vic: The biggest mistake gamblers normally make is going to the casino "blind". In other words they play the casinos' games without the necessary knowledge, skills or understanding how the payout ratios work. When I started playing Blackjack and Poker 45 years ago, there were only two books on these games. I educated myself on the game rules, strategy, payout percentages, terminology, bankroll management etc. If you want to be a successful gambler you must do it by trial and error.
14. Keith Furlong, CEO Interactive Gaming Council (IGC): The IGC is a leading trade association formed in 1996. It ensures that its members (e-casinos) operate within the organization's guidelines.
Otto: "When the IGC first started out in 1996 what were the biggest challenges it faced?"
Keith: The IGC faced many tough challenges over the years and it aims to create an environment where operators can operate unencumbered. What sets us apart from similar organizations is that we are credible and provide certain benefits to our members. We've build up a solid reputation in the U.S, Australia, New Zealand, Europe and especially the United Kingdom. In 2005, the IGC played a pivotal role in the regulation of online gambling in the UK.
The Role Of The IGC
It aims to create an environment that promotes safe and fair regulation of online gaming in the United States. It focuses on an open and regulated model throughout the world by providing industry experience and cooperation to all governments that wants to regulate it.
Canada is one of the countries that's busy regulating it this is why the IGC is spending a lot of time and resources in an effort to speed up the process. The crux of the matter is that Canadians are gambling online. H2 Gambling Capital did a research on the Canadian online gambling market in 2013 and stated that it's worth $870 million. This includes sports betting, casino, poker and bingo. Governments must realise that it's not going to go away, it's just getting bigger and more popular.
Otto: eGaming is often described as the "Wild West". Do you believe the industry is properly regulated, if not which mechanisms do you propose to do so?

Keith: When jurisdictions or governments deal with Internet gaming, they have three options at their disposal: (1) take no action; (2) curtail it or (3) regulate it. By taking no action gamblers are left at the mercy of the operator plus they become vulnerable to fraud and identity theft. Not to mention other issues such as underage and problem gambling.
This causes money to flow out which could have been used to create jobs, contribute towards developmental projects, community upliftment and so forth. Prohibition is technologically difficult, and has proven ineffective in the United States and other free societies. Regulation accepts the reality of Internet gaming and addresses the problems created by it. Regulation has always been at the heart of the IGC's efforts.
"The IGC continues to emphasize that perceived problems of underage and problem gambling can best be resolved through a combination of up-to-date technology, proper internal controls and regulatory oversight."
Another feather in the cap of computer technology is that it can identify patterns of behavior. If a problem arises the program can step in a timely manner. Once again I'd like to circle back to regulation. If governments wants to protect the public, especially children and compulsive gamblers they must regulate it.
15. Professor Joseph M. Kelly, Buffalo State University: He is co-editor of the Gaming Law Review and Economics, a leading gaming law journal. He also published articles on Internet gambling law cited in the Report of the British Parliament by the Secretary of State of Culture Media and Sport and by the California Gambling Control Commission (2006).
Otto: "What's the state of California's stance towards regulation and where does the American Indian, the Alturas Rancheria Tribe fit into the equation?
Professor Kelly: With a total population of 38 million residents, regulated internet poker could give the state of California a huge financial boost. However, presently regulation could best be described as a circular firing squad. This is because the tribes and legal card clubs can't decide whether or not they must include state horse racing operators or prevent PokerStars from operating in the state. To stop the latter it must impose a "bad actors" clause.
To date Native-American online gambling has not delivered the goods. The Iipay Nation attempted to launch online intrastate bingo but the State of California and the U.S. government came down on them like a ton of bricks.
Otto: "Only three U.S states, Delaware, Nevada and New Jersey have regulated egambling. Do you think that regulation has been a success and will other states follow suit?
Professor Kelly: Although the projected results were "slightly" inflated, 2014 was a dismal year for New Jersey casinos. Delaware and New Jersey legalized online gambling and Nevada internet poker. Online gambling revenues failed to meet projections because credit card companies still perceive it as a risk and see it as a "gray" area within the law.
"Online gambling revenues will help state revenues at the expense of offshore unregulated jurisdictions. It will create "technical" jobs. Few experts believe it will "cannibalize" land based gambling."
None of the states with large populations legalized online gambling yet. Pennsylvania is thinking of legalizing online poker or igaming. Fantasy Sports, especially daily games looks very appealing.
Montana is the only U.S state that regulated Fantasy Sports, it's not prohibited by statute in any state. Federal regulation is a minefield, except for the Indian Gaming Regulatory Act. The states have done a great job to ensure gambling operators are suitable and solvent.
16. Oren, Managing Editor, Onlinecasinoreports.com: Online Casino Reports (OCR) was officially launched in 1999 by a small group of friends who loved gambling and saw a niche in the industry. The site has been online for more than 15 years and considered by many industry experts as one of the best source of casinos for online gambling portals for players.
Otto: "Do you believe that player and affiliate shaving by online casinos is on the up and which criteria does Onlinecasinoreports.com take into account before it signs up with an operator?"
Oren: Regrettably there's a lot of dishonesty going on. As one of the major players in the industry we've often fallen prey to player shaving and theft. Most of the cases we've dealt with dubious terms and conditions where the operator closes your account if you are not delivering a certain amount of players per month. One of the programs that comes to mind is rogue operator, BetVictor-stay away from them!
Another problem is that some affiliate programs shut their doors doors to affiliates while keeping their brands active – and swindling affiliates out of their commissions. A rogue affiliate program that followed this practice is AffEurope. A scenario that I despise and beyond our control is when an affiliate program suddenly changes their terms retroactively without consulting us.
"An example that happened to us this year is with Fortune Affiliates – we have had 10 years of partnership with them and suddenly they changed their terms, causing us great losses."
This is the nature of the beast I'm afraid. If you visit the GPWA and Affiliate Guard Dog forums you'll find similar cases. As far as possible we try and work with reputable programs but as I mentioned with the Fortune Affiliates case, you never know what can happen. Since the majority of affiliate programs can change their terms as they deem fit-we try to avoid partnering with brands whose termination terms are unclear or too much in favor of the program. Lastly, we prefer to work with rev-share deals based on the assumption that revenue-share deals are for life.
Conclusion
That's a wrap. I trust that you've enjoyed reading this article and that it gave you some insight into our vibrant industry. If you have any questions I kindly invite you to leave a comment or shoot me an email.

[addtoany]