Macau Bigger And Better Than Vegas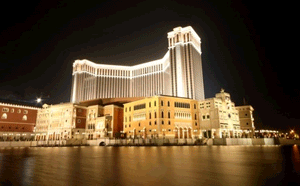 Almost overnight Macau, a former Portuguese colony in the Far East, has become a gambling giant and entertainment sensation.
If you open the drawer beside your hotel bed normally you'd expect a Bible, in Macau you'll discover a small symbol of another faith: a new deck of cards. Every year millions of visitors make their pilgrimage from Hong Kong and the Chinese mainland which is only 90 km away.
The rich fly in by helicopter; factory workers arrive in cramped coaches. Their temples have odd names such as the City of Dreams and Babylon-and their congregations are growing. It used to be called the Las Vegas of the East. But this small territory barely known to many in the West is the new giant of the casino industry.
For centuries Macau was a Portuguese colony and since 1999 it belonged to China. Thanks to the relative freedom it enjoys under China, it has leapfrogged its rivals, embracing gambling in all its facets as well as the cash it generates. Nowadays Macau is four times the size of Vegas. Last year gaming revenues from its 33 casinos hit a record high of $24 billion. It's estimated the annual take could hit a staggering $45 billion by 2014.
However, some of the industry's shine has come off recently. The government has vowed to curb casino development and U.S and Hong Kong regulators have launched inquiries into one of the larger operators. Could this sector's luck be running out at last? Macau's casino industry's immediate success was more than 150 years in the making. In the 1840s Portuguese administrators searched for alternative sources of revenue as foreign merchants and traders decamped to fast-developing Hong Kong. "They took up all the marginal and grotty jobs", historian Jason Wordie explained; selling indentured labourers to Latin American mines and plantations, licensing brothels and regulating gaming houses. A Portuguese poet who lived in Macau described it as "a material and moral rubbish dump".
For residents of Hong Kong and Southern China the appeal was simple. "It's close enough and far away from prying eyes". Wordie says, "The same principle still applies today: for people keeping mistresses and gambling." Macau's gaming tourism received a kick start in the 1920s from an energetic new monopoly and another boost in the 1960s when the government granted the rights to a syndicate dominated by Stanley Ho. Until recently the 89 year old "casino king" controlled approximately a third of the country. Now after a public feud that saw him threatening to sue two of his 17 children (by four wives), he's announced he's handing over most of his stake to his family. His empire includes Macau's best-known casino, the Lisboa, just across the road, a real monument to vulgarity and Macau's new found prosperity. Some say it has been inspired by the region's lotus symbol, which looks more like an enormous gilded onion.
Macau has the Chinese Communist party to thank for its incredible transformation. The late 1990s was a low point for this region, with powerful individuals jockeying for position as the gambling concession drew to a close and Portugal prepared to hand the colony over to the Chinese mainland. Unfortunately with all its grandeur turf wars spiraled out of control-1999 saw 42 murders in a territory with only a half a million residents. "There was carnage", says Stephen Vickers formerly a senior Hong Kong police officer who spend years taking on Triad gangs.
"Chinese people love gambling, hence the reason they love coming to Macau, they're far more passionate about gambling than their western counterparts", a visiting gambler says. "People come to have fun; you don't get things like this at home." Two factors played a pivotal role that turbocharged Macau's expansion. The first was the decision to liberalize the gambling industry. The second was China's astounding economic growth, producing an influx of visitors who could not have afforded the trip before. In 2001 there were three million trips to Macau. In 2010 there was 25 million.

Macau's casinos are carefully tailored for the Chinese market. Feng shui consultants determine the layout and players snack on oriental delicacies. Gaming expert Dr Wang Xuehong suggests while Westerners see betting as a leisure activity Chinese people regard it as a financial venture. They also like to think they have control over the games. Approximately three-quarters of Macau's revenue come from high-rollers and the casinos depend on junket operators-a by-product of Beijing's currency controls to bring in wealthy players.

The game baccarat accounts for more than 85 percent of Macau's casino revenue in 2008. Unfortunately junkets are notoriously difficult, "Vickers says. My personal assessment that many are Triad-controlled, on the surface street crime has diminished. But the pie is much larger-there is money laundering, loan sharking and prostitution. In recent years many scandals have surfaced over Chinese officials using trips to Macau to gamble away embezzled public money or launder bribes, one reason authorities have mixed feelings about the industry.

Employment has without a doubt increased in Macau-nearly 15 percent of the labour is in gaming or gaming related work-and per capita GDP soared to $50,000 last year, one of the highest rates in the world. Yet half of the workers earned less than $10,000 per year whilst the rich get richer rising property and living costs have outstripped the incomes of the less affluent residents.

In summary, the truth is Macau like its visitors who stream to it by placing its faith in the casinos on which this empire is built are praying that its luck will hold for now.

[addtoany]