World Cup Rugby: All Blacks Plan To Counter Springbok Maul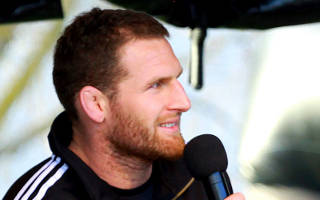 Kieran Read, All Blacks number eight said they realize that the lineouts are not going to win them the match against the Boks on Saturday. During the Rugby Championships earlier this year, Kiwi captain, Richie McCaw scored a try in the 74th minute via a superb lineout movement that won them the game 27-20.
Read said they plan on using it again but only if New Zealand is dominant in the lineouts. Many feel that McCaw was offside and should have been penalized. Read is of the opinion that Saturday's semi-final at Twickenham will pose new challenges. "We're going to stick to our guns and play the best possible rugby."
All Blacks Aim To Counter Boks Maul
The All Blacks are fully aware that the Boks' maul is one of their greatest weapons and they intend to "neutralize" it. South Africa's strength is their incredible pack of forwards. As such we don't want them to kick the ball out in the corners which sets up a great platform for their maul." Read concluded.
Ian Foster, assistant coach of the All Blacks said that the current world champions expect an incredible physical test. Even though we smashed France 62-13 we've hit the reset button and we're not going to sit on our laurels. "At times a great victory can have a dire influence on a team's mindset and can create complacency. To play in a semi-final in a World Cup is a huge honour, something we will not take for granted," Foster said.
New Zealand received a pat on the shoulder after their emphatic victory against Les Bleus but it doesn't mean anything at this stage. Head coach of the All Blacks, Steve Hanson said they must forget about the game against France and focus in earnest on the game against the Boks. Without a doubt the 2015 Rugby World Cup is one of the most interesting tournaments to date; for the first time in its history no Northern Hemisphere team will be in a semi-final.
Springboks Are 'Special Opponents'
Conrad Smith said that the Boks are still the All Blacks' ultimate test and 'old foe'. During the apartheid regime Australia were the Kiwis 'greatest enemy'. "South Africa is now back in the picture and now our biggest opponent. For us it's always special to play against them since they bring out the very best rugby in us."
"Over the years the All Blacks forged a unique friendship with the Springboks since they have a special connection to the game. This is why many of the players still stick around five minutes after each test to congratulate each other on a game well played. We expect a physical onslaught from them." Conrad Smith
"One of the things that strikes me from the Boks is their never-say-die-attitude. The last five years of test matches against them have been a nail biting affair. Saturday's test match will be no different. After their epic defeat against Japan, South Africa staged a monumental comeback-something that has not gone unnoticed," Smith pointed out. 

Come Saturday, I firmly believe that South Africa is the only team in the World Cup that can knock New Zealand off its perch. The All Blacks have been criticized for being offside at the ruck, slowing down the breakdown and trying to 'influence' referees.

Hopefully the referee officiating Saturday's game will be fair to both sides. The last thing we want is another Craig Joubert decision. Taking nothing away from Joubert, he's one of the best referees in world rugby but sadly he 'robbed' the Scots of a great victory over Australia and a berth in the semi-final.

[addtoany]